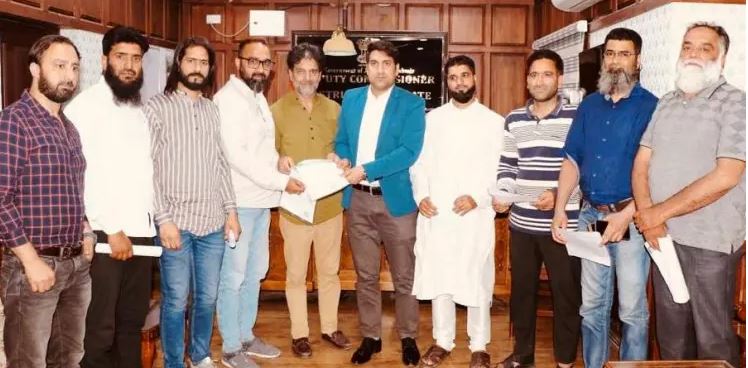 Srinagar, June 09: A delegation of Shahr-e-Khaas Traders Association Thursday called on the Deputy Commissioner (DC) Srinagar, Mohammad Aijaz Asad in his office Chamber, here.
The delegation headed by Bashir Ahmad Kenu submitted a charter of demands before the DC projecting several demands including launching E-Rickshaw services in all internal  routes of the Shahr-e-Khaas to Lal Chowk and Batamaloo to overcome the traffic jamming, opening of Sunday market in Eidgah area, Installation and repairing of Street lights, construction of public convenience on prominent places in Shahr-e-Khaas, construction/ renovation of 2nd story of SDA shopping complex,  allocation of space for car parking in important areas in Shahr-e-Khaas, operation of Cable Car services from Rainawari to Hazrat Makhdoom Sahib (RA) Shrine on regular basis to attract tourists, besides other issues regarding welfare of the traders of Shahr-e-Khaas.
The DC gave a patient hearing to the delegation and assured them that all their concerns will be looked at and redressed on priority.
He also assured them that he will conduct the visit to Sher-e-Khaas for an on the spot assessment of the grievances and demands of the people.