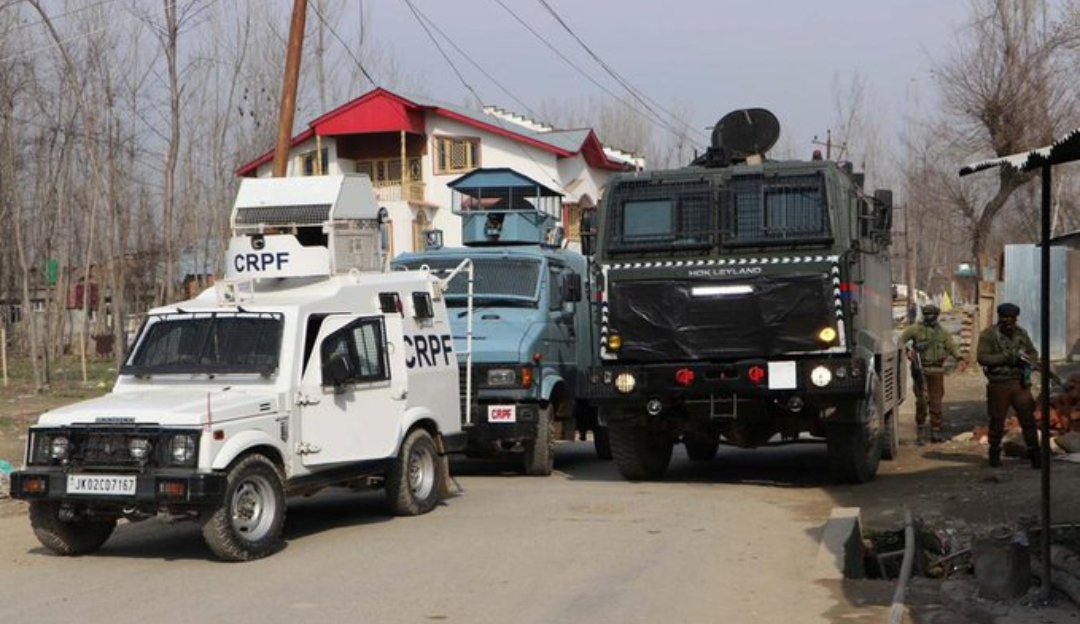 Srinagar, May 06: Three Hizbul Mujahideen militants including a top commander were killed in an encounter between militants and security forces at Sirchan Top in Batkoot area of Pahalgam in South Kashmir's Anantnag district on Friday.
An official said that a joint team of Police, Army's 3 RR and CRPF launched a cordon and search operation on specific information about the presence of militants in the area.
He said that as the joint team of forces approached the suspected spot, militants fired upon them which was retaliated , triggering an encounter.
During exchange of fire three Hizb militants were killed which includes the longest surviving militant of the outfit  Ashraf Molvi, who was active since last eight years.
Inspector General of Police (IGP) Kashmir Vijay Kumar said that Ashraf Molvi (one of oldest surviving militant of HM outfit, who was killed along with two other militants.
He said that successful operation on Yatra route is a major success for them.
Official sources identified other two militants as Roshan Zameer of Aswara Kanelwan in Bijbehara and Muhammad Rafiq Drangay of Hayar Bijbehara who too were active since last several years now.
Mohammad Ashraf Khan alias Ashraf Molvi a resident of Tangpawa Anantnag as per officials had joined militant ranks in 2013 after working as an Over Ground Worker (OGW) for several years.
They said that after the killing of Hizb commander Dr Saifullah, Molvi was chosen as operational commander of the outfit.
Molvi a categorised A++  militant, has appeared in several videos that have gone viral on social media and has surfaced in list of the most wanted militants in 2018, 2019, 2020, 2021 and 2022.
A police spokesman in a statement  said that security forces killed three wanted militants of Hizbul Mujahideen in an operation at Sirchan Top Anantnag including the oldest surviving militant Ashraf Molvi.
"Yesterday on 05/05/2022, Anantnag Police along with Army (19RR) arrested a militants of outfit HM identified as Muhammad Ishfaq Shergojri, resident of Nowgam Verinag during a CASO at Kokernag area of Anantnag. During the sustained interrogation of the arrested militant, leads were developed and several CASOs were conducted in various areas of Anantnag," he said. "One of such joint cordon and search operation launched by Police and Army (3rd RR) in the forest area of Sirchan Top (East of Batkot Pahalgam) area of Anantnag turned into an encounter."
The police said that during the operation, as the joint party proceeded towards the suspected spot the hiding militants fired on the joint party which was retaliated leading to an encounter.
"In the ensuing encounter, three militants of HM were killed and their bodies were retrieved from the site of encounter. They have been identified as Mohd Ashraf Khan alias Ashraf Molvi/Mansoor ul Haq, Mohd Rafiq Drangay and Roshan Zameer Tantray alias Aqib," the police spokesman said, adding that "as per police records, all the three categorized killed militants were part of groups involved in several crime cases including attacks on Police/SF and civilian atrocities."