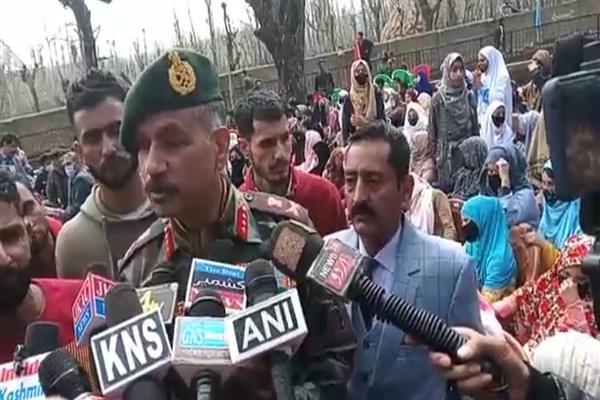 Kupwara, Mar 14: General officer commanding (GOC) of Srinagar based Chinar Corps, Lt. General D P Pandey on Tuesday said that the fake narrative created in 1991 alienated and isolated the people of Kunan-Poshpora in Kupwara district and that a nexus was orchestrated in surrounding areas to defame them.
Talking to media persons on the sidelines of a function in Kunan, D P Pandey said that months back a delegation from the village visited him and they said that they have been used through a nexus and a narrative, which was created to alienate and isolate, thereby causing a huge damage.
Pandey said that delegation said that the surrounding areas also isolated them. "The delegation urged us to do something for them and they also put forth some demands including sports infra-structure development and employment generation for local women. Today I kept my promise and visited the village to fulfil those demands," he said.
He said that there was a time when section of people didn't allow their daughters to go outside, but change is visible now as people are allowing their daughters to achieve their dreams.
He also said that Kupwara, which was once a hot bed of militancy as it was worst hit by the militancy with training camps in the area and an infiltration route, have now understood the difference that's the reason Kupwara is now militancy free.
Pandey also said that the recent spurt in killings is a challenge for civil society as well and they have to come out collectively to stop such killings. "They also have a collective responsibility to council the youth and not let them fall into trap of treading a wrong path," he said.
Pandey said that security forces are taking every measure to tackle the militancy, but through a strategy teenage boys are being brainwashed to pick up weapons. "I urge the people to keep your children under your surveillance and don't let them get brainwashed. Prevent them from treading a wrong path," he said.
He also said that there is decline in recruitment to militant groups over the past 2-3 years.
Responding to a query about the number of militant active in north Kashmir, Pandey said that there are around 160-165 militants active in the area. kns