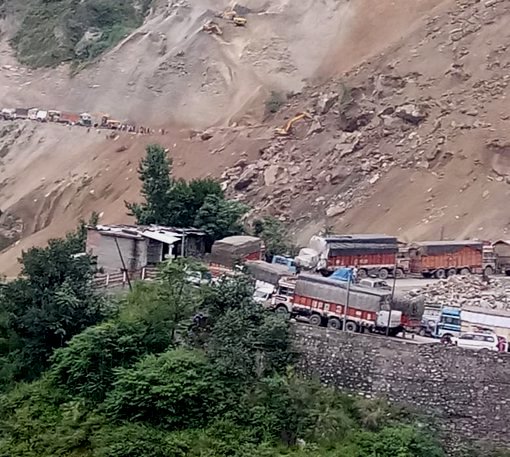 Srinagar, Mar 5: Jammu-Srinagar highway, the only surface link connecting Kashmir Valley with the outside world, was closed for hours following shutting stones at Panthyal in Ramban district on Sunday.
A senior traffic police officer said that the steel tunnel was extensively damaged and restoration work was delayed as time was taken to remove the damaged girders. Also shooting stones at regular intervals hampered the clearance, he said. After few hours, the restoration work was completed and traffic restored after several hours.
"Tomorrow on 06-03-2022, subject to fair weather and better road conditions LMVs(Passenger)/private Cars shall be allowed from both sides on Jammu-Srinagar highway viz Jammu towards Srinagar and vice-versa," a traffic department official said, adding, "TCU Jammu/Srinagar shall liaise with TCU Ramban before releasing the traffic."
Meanwhile, Mughal Road, connecting Shopian with Poonch and Rajouri districts, remained closed for vehicular movement in view of snow accumulation at Peer Ki Gali.
Also,Srinagar-Sonamarg-Gumri road remained shut for vehicular movement in view of snow accumulation on Zoji la axis and has been closed till further orders.
"Today early morning visited the Sonamarg Zojila road to inspect the snow clearance operation at Zojila pass. Though snow is cleared up to zero point but due to recent avalanches, it is not feasible to throw the road open," Deputy Commisioner Ganderbal said in a tweet, adding.
Kishtwar-Sinthan road also remained closed in view of snow accumulation, the traffic department official said. (gns)