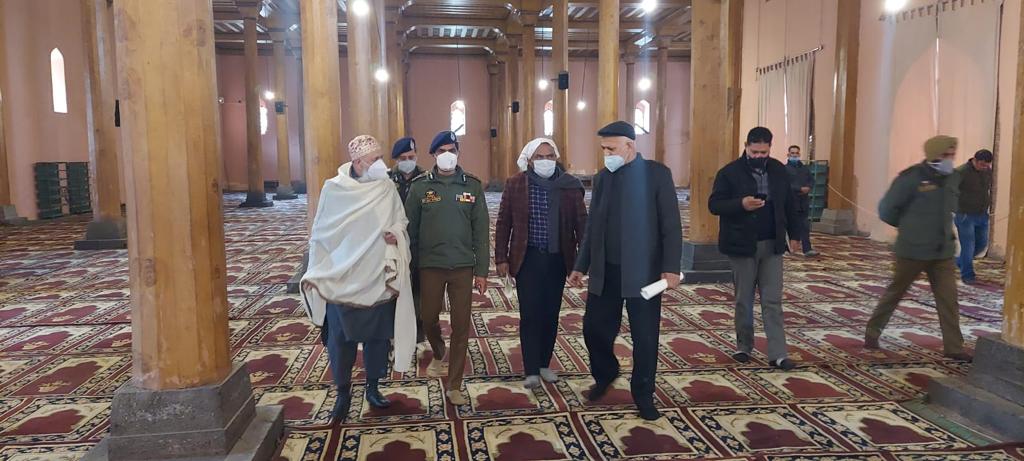 Srinagar, Feb 28: The Jammu and Kashmir's administration is mulling to reopen the historic Jamia Masjid in Old City area of Nowhatta for prayers after almost 30 weeks as the top officials from the administration visited the grand masjid to review the preparedness. The officials also met the Imam of grand masjid and also the members from the Auqaf Jamia Masjid.
The Masjid remained closed for the mandatory congregational prayers for 30 straight weeks. Inspector General of Police (IGP) said that the government is considering to reopen the historic Jamia Masjid for prayers soon.
The IGP Kashmir and Divisional Commissioner, Kashmir also visited the historic Masjid to review the arrangements. The duo also held meeting in this regard with Imam Jamia and Secretary Auqaf Jamia Masjid.
Pertinently, the Masjid was closed for the mandatory prayers due to Covid-19 pandemic. Kashmir's head priest Mirwaiz Umar Farooq, who used to deliver Friday sermons at the Jamia Masjid has been under continuous house arrest at his Nigeen residence since August 5, 2019.
Talking to KNO, a senior Auqaf member said that that the members of the Auqaf told IGP and Divisional Commissioner that  have been repeatedly asking the authorise to allow Friday prayers at Jamia Masjid which has been forcibly disallowed since last 30 weeks  for reasons best known to the authorities, as well as the release of Mirwaiz Umar Farooq.
"We told the officials that it has deeply hurt the sentiments of Muslims of the valley and deprived them of the fundamental right to practice religion. We also conveyed to the officials that the mosque be opened for prayers on coming Friday and Mirwaiz be allowed to deliver the Friday sermon there," the Auqaf member said. kno