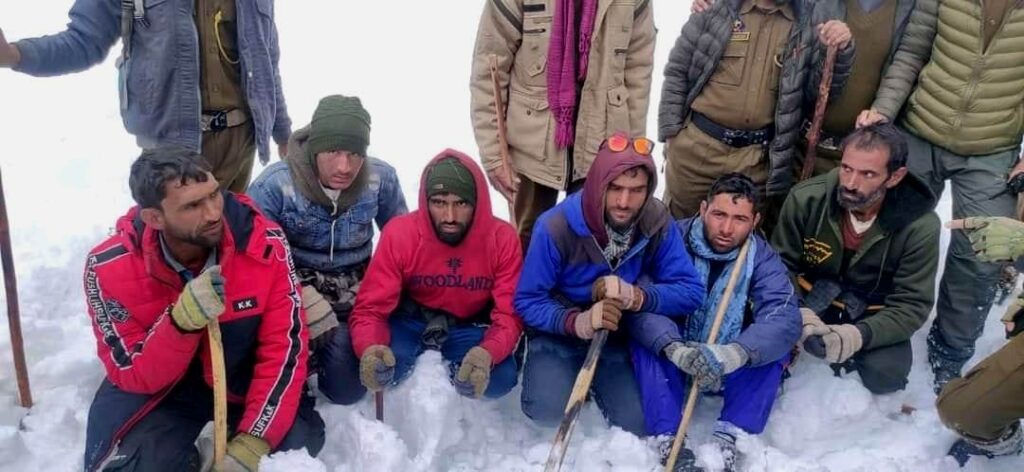 Srinagar, Feb 26: Six residents of Marwah area of Warwan in Kishtwar district Saturday while recalling their horror and the struggle to survive for three days at Margan top said that they feel they are reborn.
All six survivors said that returning home after spending three nights in snow laden mountains wasn't less than a miracle as they had never thought that they would reach home alive after they got trapped at Margan top.
Ghulam Muhammad Koka, who was one among the missing persons said that they started journey on Tuesday evening when weather was clear and were expecting to reach home before rain or snow.
"Once we reached Margan top, strong winds started and within a few minutes heavy snowfall also started. We decided to stay in a nearby hut till the weather would become friendly, however, it didn't happen for two nights and a day," he said while recalling the struggle.
He said that on Thursday when snowfall wasn't so heavy, they decided to move and after continuously walking for around 12 hours they reached Naribalan and there was a shed where they spent the night.
"On Friday morning, weather was clear and we left for home. Around 11 am we called our relatives informing them that we are alive and will be reaching home within a few hours after which police and locals came towards us. Finally, we reached home at around 4 pm on Friday," he said.
Koka said that there was intense cold but there was some dry cow dung near hut as animals remain there during summer and somehow they managed to burn it to keep themselves warm.
"We had just few chapatis and chocolates to eat for three days. We were hopeful that if weather will become friendly, government would send helicopter to rescue us," he said.
He said that usually it takes around 6 hours by foot to reach from Matigabran in Kokernag to first residences in Marwah.
Meanwhile, locals have requested the government to airlift all locals who are stranded in Kishtwar and Anantnag districts. "We request the government to construct a tunnel from Kokernag to Marwah for one time solution so that such incidents won't happen again," they said.
Pertinently, Anantnag administration and Kishtwar administration were working from day one to trace six persons after they were informed that there is no contact with them. kno