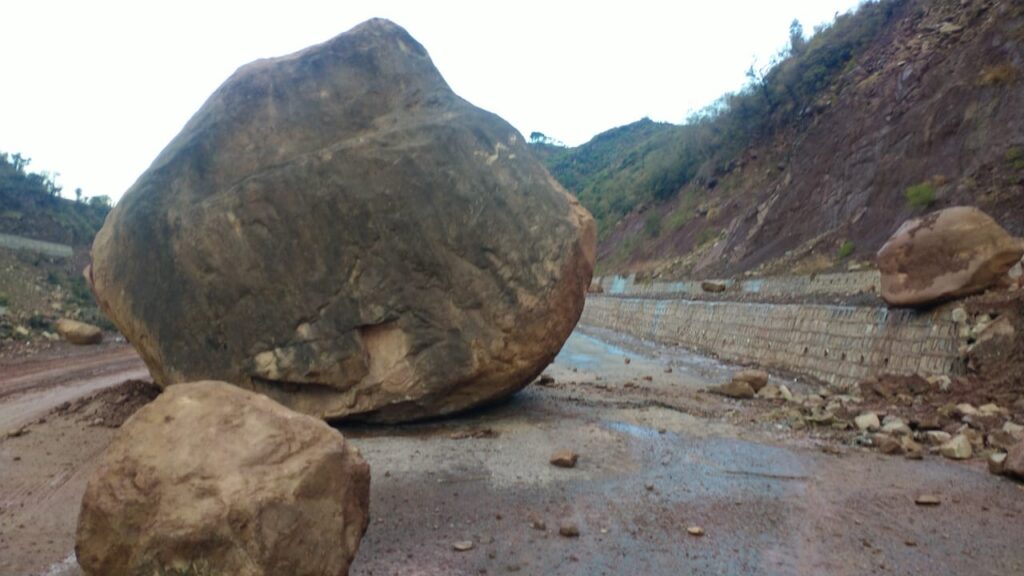 Srinagar, Feb 26: A man hailing from north Kashmir's Baramulla district was injured on Saturday due to shooting stones along Srinagar-Jammu highway at Mehar area of Ramban.
Officials said that a man identified as Wasim Ahmed, son of Ghulam Nabi Dar from Baramulla was in a truck (JK05F-1003) when shooting stones hit the vehicle at Mehar Ramban.
He was shifted to a nearby hospital for treatment, they said.
Meanwhile, 700 trucks and 50 Light Motor Vehicles are stranded at different places along the highway after the only road connecting the Valley with the rest of the States was closed for vehicular movement.
The highway was closed for traffic after multiple landslides at different places due to fresh snowfall today.
The landslides and shooting of stones from the hillocks triggered by heavy rains occurred at Rompadi-Banihal, Shalgardh-Wagan, Moumpassi-Ramsu, Panthiyal, Digdole, Maroog, Monkey Morh, Cafeteria Morh and Mehar in Raman district, the officials told KNO.
With the improvement in weather, they said the road-clearance agencies have pressed men and machinery to clear the debris off the highway.
"Tomorrow on 27-02-2022, subject to fair weather and better road conditions LMVs(Passenger)/private Cars shall be allowed from both sides on Jammu-Srinagar NHW viz Jammu towards Srinagar and vice-versa," the traffic department officials said in an advisory, adding that TCU Jammu/Srinagar shall liaise with TCU Ramban before releasing the traffic.
The advisory said cut off for LMVs/private cars from Nagrota (Jammu) will be at 0600 hours to 1200 hours, from Jakheni (Udhampur) at 0700 hours to 1300 hours and from Navyug Tunnel (Qazigund side) 0600 hours to 1200 hours "(subject to change depending on the road position then)", adding that no vehicle shall be allowed before and after cut off timings.
Regarding HMVs/Load Carriers the advisory said, subject to fair weather and better road conditions, only stranded Vehicles between Chenani and Banihal shall be allowed towards Srinagar after assessing the traffic situation on NHW. "TCU Udhampur shall liaise with TCU Ramban before releasing the HMVs."
"Security forces are advised/requested not to ply against advisory/traffic plan in view of traffic congestion on Jammu-Srinagar NHW," the advisory said, adding that "they may ply from Jammu towards Srinagar after confirming the status of NHW."
Mughal Road, Srinagar-Sonamarg-Gumri Road and Kishtwar-Sinthan Road closed for vehicular movement by the administration in view of snow accumulation.