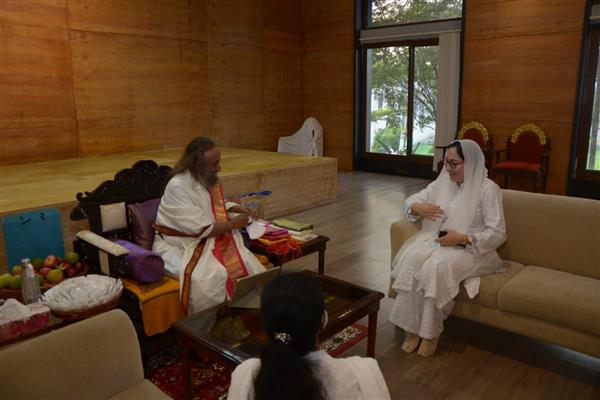 Srinagar Febuary 22: BJP National Executive Member & Party Spokesperson Dr Darakhshan Andrabi met " spiritual guru and supremo" of world famous peace and humanity organization Art of Living , Sri Sri Ravi Shankar at the foundation Headquarters at Bengaluru today. 
Dr Darakhshan had a detailed meeting with the guru regarding strengthening the environment of peace, harmony and brotherhood within the country.
According to the statement, she discussed some proposals regarding Jammu & Kashmir where efforts for stress management among youth and inculcation of human development traits among the young people of the society are much needed to lessen the traumas of the era of violence.
During the meeting with Sri Sri Sister Bhanumati Narasimhan, the Director of Art of Living's Women & Child Welfare Programmes was also present.
She informed them about the initiatives of the Union Ministry of Minority Affairs for Women & Children in the country. She stressed on the need for the collaboration of the foundation with the Ministry's Women & Child Development Programmes for better results.
Andrabi thanked Sri Sri Ravi Shankar for accepting his proposals for future implementation within J&K and the rest of the country.
She hailed the efforts of guru ji and his team for enhancing humanist capabilities within the country and the rest of the world.
"We all feel proud to see the all-inclusive ideology of Art of Life which aims at the mission of man making and character building within the country and throughout the world. Guruji is the real ambassador of Indian vision of Vasudaiv Kutumbkam to the globe. All peace loving people who believe in the dignity of human life need to contribute to the mission," said Andrabi.
Andrabi also met Art of Living Director for Jammu & Kashmir Sister Vandana Daftari Ji during the tour.