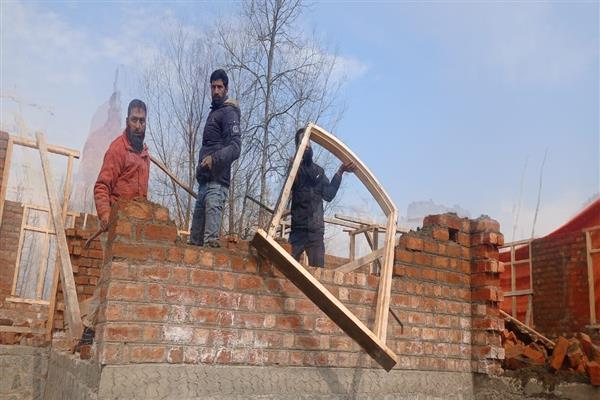 Srinagar February 18: In order to curb the raising of illegal structures both commercial and residential in the city, Srinagar Municipal Corporation (SMC) Enforcement squad is continuously carrying out demolition drives across the Srinagar city.
According to a statement, since January 1st till date at least 150 illegal structures in various wards of the city have been pulled down by the Enforcement wing including the deviated structure, removal of plinths at initial level and other illegal structures in form of shops and encroachments on Government lands.
The demolitions under the supervision of Chief Enforcement Officer Suhail Chintsaaz have been carried out in Eidgah, P.C. Depot Bund, Natipora Rawalpora Lal Bazar Gousia Colony and Soura Tengpora near City Hospital – Kadi Kadal- Khanyar and Khushalsar Bemina Byepass Opp. JVC Hospital Tengpora Ellahi Bagh near Grid Station, Bohri Kadal, Maisuma and Hawal, Pinchi Mandi, Parimpora near Bus Stand, Malla Bagh near CRPF Camp, Palpora, Tengpora, Batamaloo, Khayam near Petrol Pump and Parray Pora,Bohlachpora,Humhama,Bohri Kadal Solina,Khankah, Sekidaffar Chowk & Rambagh behind Zum Zum Hotel,Bohlachpora Soura 90 Feet Road, Karan Nagar and Humhama.
Besides demolition drives an anti encroachment drives are regularly being taken up in the city.
To review these drives Commissioner SMC Mr Athar Amir khan takes weekly review and conducts regular site visits to over see the implementation of Enforcement on ground.
Commissioner SMC in this regard has directed the field staff not to allow any structure coming up without permission and keep a tight vigil on constructions taking place in accordance with permission so that not deviation also takes place.