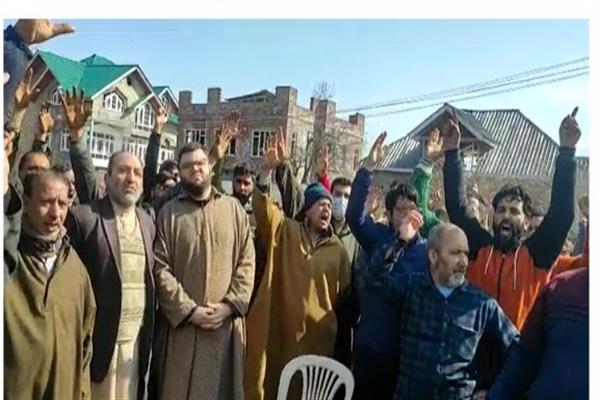 Budgam, Feb 16: The residents of Wader village of Budgam district on Wednesday held a protest demonstration after a Kashmiri pandit claimed that the land, where the residents have constructed their houses, was his land and the residents have encroached it.
The protesting residents said that they have purchased the land from a Kashmiri pandit and they were in possession of the power of attorney.
Notably, the residents held protest after officials from district administration visited the village and asked them to vacate the property, as a Kashmiri pandit has approached the administration with the claim that this land belongs to him and the locals have encroached it.
"No body can vacate us from here as we have purchased this land from the pandit and we are in possession of the power of attorney. We appeal to the authorities to verify the facts first and proceed to next steps," said one of the protesting women.
She said that they have been living there for last many years and this property belongs to them as they have purchased it from the pandit. kns