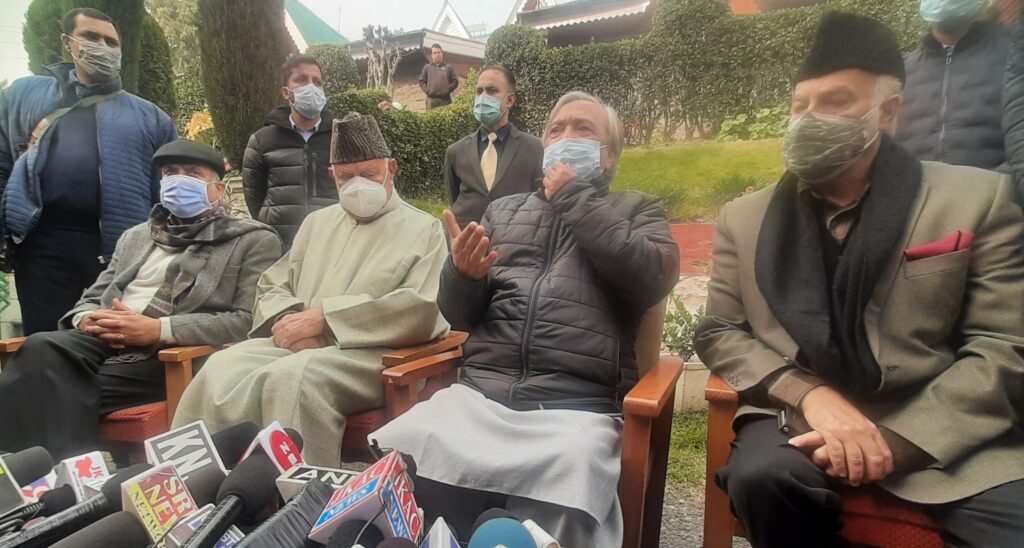 Srinagar, Feb 08: The Peoples' Alliance for Gupkar Declaration (PAGD) is all set to hold a meeting on February 23, to discuss the recent draft put forth by the Delimitation Commission.
Sources within the PAGD said the conglomerate will meet on Feb 23 in Srinagar at its president Dr Farooq Abdullah's Gupkar residence.
They said that the meeting will be presided over the conglomerate president, which will begin at 11:30 AM on Feb 23, 2022.
Earlier, the meeting was scheduled to be held at Jammu on Feb 13. However, the sources said that the meeting has been rescheduled and will now be held on Feb 23 in Srinagar at Dr Farooq's residence.
Spokesman of PAGD, Muhammad Yousuf Tarigami, confirmed the meeting on Feb 23, saying that the draft presented by Delimitation Commission will be discussed threadbare in the meeting.
"We have called a meeting on Feb 23 to discuss the draft presented by Delimitation Commission. The meeting was scheduled on Feb 13 at Jammu earlier, which has been postponed as some of the leaders were not available on the particular date, thus the meeting has now been fixed on February 23, 2022," Tarigami said. kno