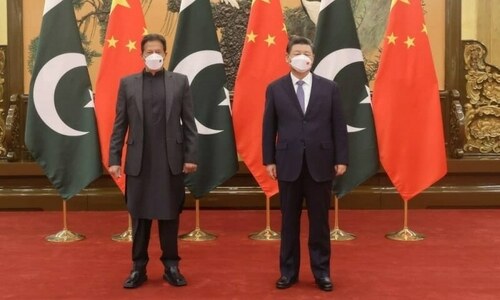 Srinagar, Feb 07: Pakistan and China has stated that they oppose any unilateral move on Kashmir that complicates the situation in the region
According to a joint statement released after the meeting of Pakistan Prime minister Imran Khan with Chinese President Xi Jinping, the Pakistan side briefed the Chinese side on the latest developments on the situation in Jammu & Kashmir, including its concerns, position and pressing issues at the moment.
They also stressed the importance of resolution of all outstanding disputes to promote regional cooperation and advance the goals of stability and shared prosperity in the region.
"The Chinese side reiterated that the Kashmir issue was a dispute left from history, and should be properly and peacefully resolved based on the UN Charter, relevant Security Council resolutions and bilateral agreements. China opposes any unilateral actions that complicate the situation," the statement reads.
It has not been the first time that Pakistan and China has expressed its anger over the abrogation of article 370 in J&K- terming it a unilateral move. China has at several occasion said that the Indian "unilateral" move to split the J&K state into two union territories and change the status quo was "illegal and invalid"
The joint statement further state that the Chinese side reaffirmed its support for Pakistan in safeguarding its sovereignty, independence and security, as well as promoting its socio-economic development and prosperity.
China and Pakistan also agreed to "continue the momentum in defence cooperation at various levels" between the armed forces of Pakistan and China. "They underscored that stronger defence and security cooperation between Pakistan and China was an important factor of peace and stability in the region," it added.