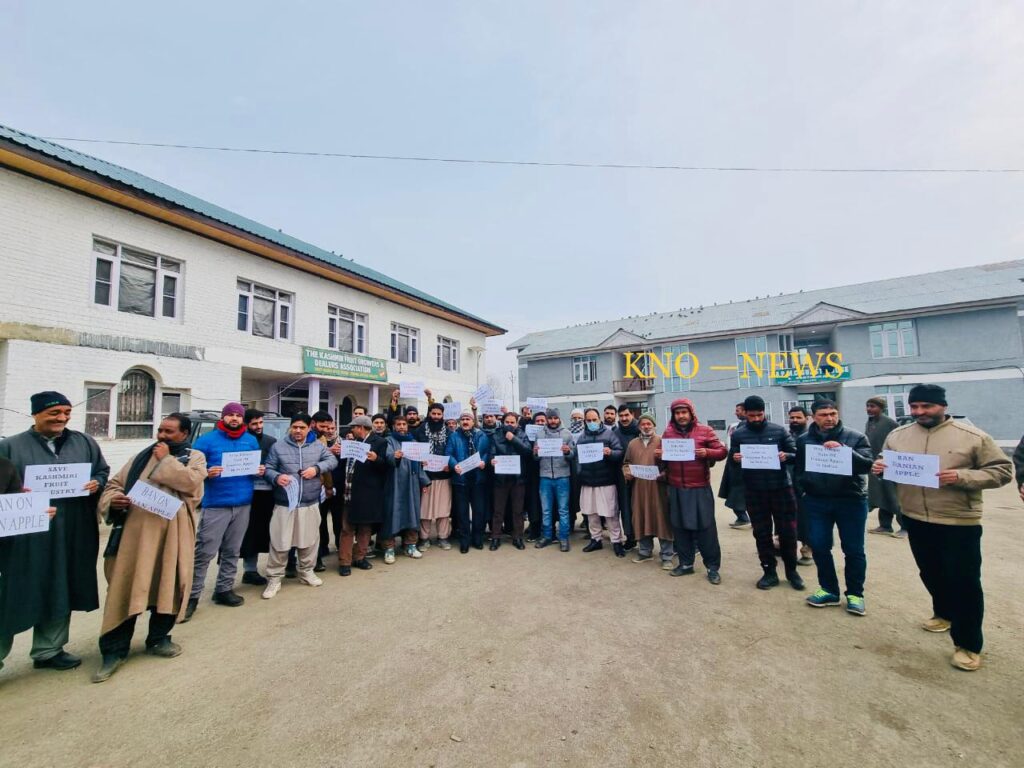 Baramulla, Jan 03: The fruit market had suffered badly since last few months as Iranian apples were "illegally" and freely sold in Indian markets, say those associated with the fruit trade at Asia's second—largest fruit mandi here in the apple town Sopore area of northern Kashmir.
While seeking the ban on Iranian apples in the country, the traders also staged a protest demonstration on Monday at fruit trade, stating that the import of Iranian apples to India has completely downgraded the fruit industry of Kashmir.
"Since the last few months, it has badly affected our local fruit industry as the apples  which were being sold at suitable prices are now being sold at less price. This has left all the fruit traders here worried, "the protesters said.
"The apple trade in Kashmir is the biggest trade on which the economy of Kashmir runs and if it will be downgraded the business infrastructure of Kashmir will also crumple, "the protesters said.
They said that the Apple industry was already suffering since the last fews years due to the Covid-19 lockdown and uncertainty and now importing Iranian apples and sidelining local production is not only a headache for us but is affecting us badly.
"The apples coming from Iran enter the market without tax while at the same time the local local fruit growers pay their taxes regularly, "Mudasir Ahmad, a local apple trader said, adding that the government should ban it very soon.
Mustafa Jameel another trader said that his fruit business is getting worse with each passing day due to Iranian apples as he had dispatched many apple trucks to Delhi but has got a very meager price in return.
The traders also appealed the central government and LG leg administration to ban import of Iranian apples so that the local apple trade won't suffer. kno