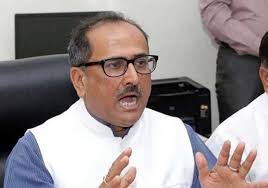 Srinagar, Dec 29: Former Deputy Chief Minister and BJP politician Dr Nirmal Singh on Wednesday said that Mehbooba Mufti and Omar Abdullah are tool-kits who operate on behalf of Pakistan.
Singh's remarks came a day after Peoples Alliance for Gupkar Declaration (PAGD) termed the police version with regard to the Hyderpora encounter as 'concocted, cover-up story'.
Nirmal Singh said that the report with regard to the Hyderpora encounter submitted by SIT has made things clear and truth has finally surfaced.
"I want to ask Omar Abdulla and Mehbooba Mufti why they are putting question marks over the sacrifices being made by police, army and forces personnel to end militancy in Kashmir. They were claiming that police made the victims human shields but it has become now clear that they were made human shields by militants," Singh said.
Four persons were killed in a contentious Hyderpora encounter last month in November.
Yesterday, DIG, Central Kashmir Range Sujit Kumar who head the Special Investigation Team probing the 'gunfight' had said that though investigation is still under progress but prima facie it seems that Dr Mudasir Gul was killed by foreign militant while building owner Altaf Bhat lost his life in cross firing after militants made him human shield- assertions that invited sharp reaction from PAGD which reiterates its demand for a judicial probe into the incident. knt