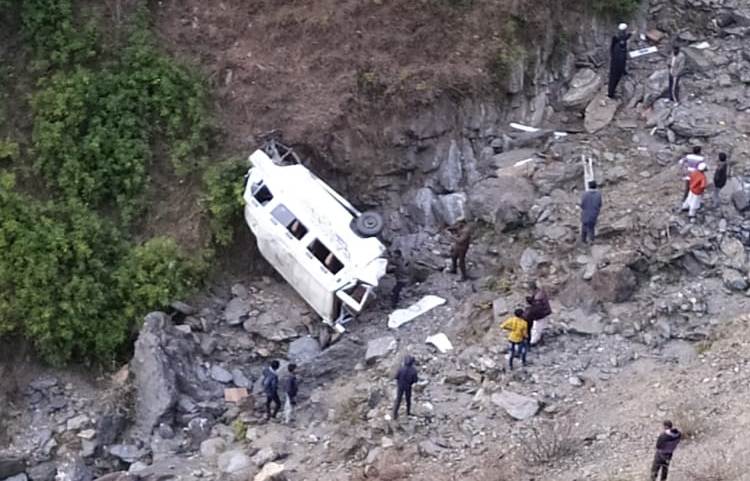 Srinagar, Dec 24: The year 2021 has claimed lives of 713 people in road accidents, a figure which is eight times more than those killed by bullets in the conflict ravaged J&K, official data reveals.
As per the data compiled by the J&K Traffic Police Departmen, 5036 accidents happened in J&K from January to November in 2021, in which 713 persons were killed and 6447 were injured. "589 accidents were reported fatal and 4447 non-fatal," the figures reveal, adding that 3278 accidents happen only in Jammu, in which 521 persons were killed and 4241 injured. "102 persons were killed and 1175 injured in Jammu district, 76 killed and 536 injured in Kathua, and 63 persons were killed and 313 injured in Ramban," the data available with the KNO, reveals.
In Kashmir, the figures suggest that 1758 accidents took place since January 2021 in which 192 persons were killed and 2206 injured. "36 persons were killed and 333 injured in Srinagar, 25 were killed and 140 injured in Kulgam, and 21 persons were killed and 340 injured in Anantnag district," the data states.
The figures state that in 2017, 926 were killed and the injured persons were 7419. "In 2018, 984 people were killed and 7845 injured. "In 2019, a total of 996 persons were killed, 7532 were injured. In 2020, 728 people were killed, while as 5894 were injured," the figures reveal.
Pertinently, the deaths caused by road accidents in J&K in year 2021 are much higher than those killed by bullets. The figures revealed in the Parliament recently state that in 75 people including 40 civilians and 35 security forces personnel were killed in militancy related in Kashmir in year 2021 (upto November 31).
Superintendent of Traffic Police for Rural Kashmir Manzoor Ahmed Mir said  that that rash driving and violation of traffic rules are the basic reasons for rising accidents in rural areas of Kashmir. "People resort to rash driving and often resort to violation of traffic rules which ultimately result in accidents which at times turn fatal," Mir said. "Jumping of signals in one of the biggest reasons responsible for accidents."
He, however, said that on the spot challans and speed guns are proving as major tools to prevent accidents. "People should develop traffic sense," Mir said.
Hit-and-run cases are on the rise in Kashmir, said Junaid Nazir, a Road Safety Expert. "But in this case, entire fault doesn't lie on the traffic cop who remains on the road for manning the traffic. Motor Vehicle Department (MVD) should play a major role as it is the only department that has a right to suspend the license," he said, adding that "MVD has a Road Safety Cell under Road Safety Policy (RSP) why that is not being implemented. Police doesn't have funds to create awareness."
He said that preventing rash driving is all about safety tools. "We need intercepting vehicles, safety vehicles, high speed cameras and other latest gadgets. I wonder why traffic department is not utilizing funds to procure latest gadgets," he said, adding that "minimising road distance will definitely help bring down the accident rate in the Valley."kno