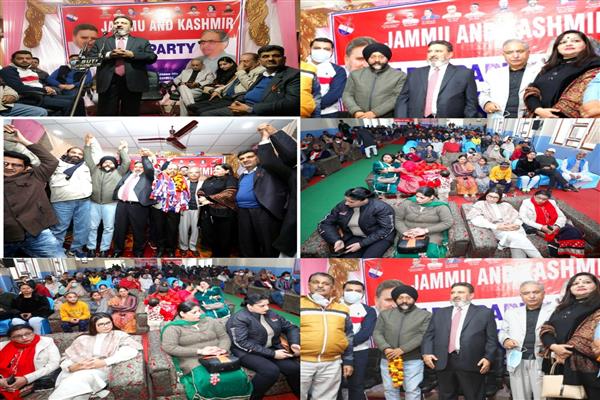 Jammu, Dec 16 : Jammu and Kashmir Apni Party President Syed Mohammad Altaf Bukhari on Saturday welcomed the former Senior BJP Leader and its State Publicity Secretary J&K Arun Kumar Chibber along with his scores of associates into the party-fold and Progamme was organised at Jammu west By Pranav Shagotra Abhy Bhavaya and vipul Bali
The joining ceremony took place in presence of Senior Vice President Ghulam Hassan Mir alongwith State Gen. Secy. Vikram Malhotra, Prov. President S Manjeet Singh, Prov. President Women Wingh Namarta Sharma, Distt. President Urban Pranav Shagotra, Ex MLA Faqeer Nath.
Speaking at the sidelines of the joining ceremony, Bukhari said that while the people of Jammu empowered BJP in the erstwhile state but the requisite developmental progress remains still missing on ground zero.
"The story of Jammu division is the same as that of Kashmir where developmental works have been kept in an unending pendency while the taller claims about progress and prosperity are being made every single day through media propagation. What has BJP done for the people of Jammu? It is a question that every single person from Jammu is asking today," he said.
Bukhari said that demoting a state to a union territory has been an black mark on the dignity and the integrity of the people of J&K who are routinely now being pushed from pillar to post for the mitigation of their sufferings.
"People of J&K have at numerous times given their unwavering support to the national and regional political parties but the promises made with them were never fulfilled and requisite developmental works have mostly been carried out with a snail's pace. There have been unprecedented alliances between the parties that claimed to be poles apart but the condition of people continues to remain the same. The public yearns for progress and good governance which regrettably is not visible on ground," he said
Bukhari said that Apni Party has given a ray of hope to all the divisions and sub-regions of Jammu and Kashmir as our agenda is development centric and people from all backgrounds irrespective of their ethnicity and community are joining this caravan of change.
"The edifice of our party is on the overall development and progress of J&K. It is the sole party that has potentially discarded regional biases and incorporated an all-inclusive and democratic system that is what our constitution has enshrined. We are firm against divisive politics and speak only one tongue irrespective of condition or place. Our youth must remember that it was Apni Party that put forth its unstinted efforts for the implementation of Domicile law, job security and SRO 202," he remarked.
He said that Apni Party stands resolute in its demand for the restoration of Statehood and dignity of the people and the government must initiate electoral processes in J&K without any further delay.
"The dignity of people of J&K needs to be restored as per their aspirations and the Central Government needs to resonate with the demands of people that should begin with the restoration of Statehood followed by elections," he said.
Speaking on this occasion, Arun K. Chibber thanked the party leadership while saying that it was Apni Party's deliverance on ground and its connection with the people that motivated him to join the party cadres.