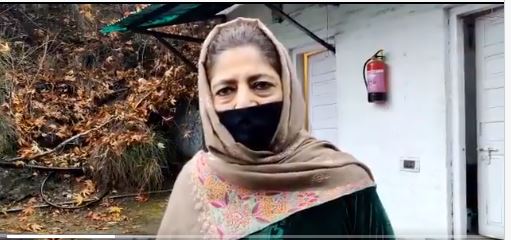 Srinagar, Dec 12: PDP president and former Chief Minister Mehbooba Mufti on Sunday said she was placed under house to prevent her from addressing party youth convention at Gupkar here.
Mehbboba said that she was prevented from moving outside and has been placed under house arrest. Also some PDP workers staged a protest demonstration against the denial by administration to hold the youth convention purportedly due to covid-19 restrictions.
Mehbooba was scheduled to chair a meeting of its youth leaders and activists at 11 a.m. at her residence in Gupkar, Srinagar.
However, an order issued by an executive magistrate denied the permission.
"In view of the report received by the office of Senior Superintendent of Police, Srinagar, and COVID-19 restrictions in place. It is hereby ordered that the scheduled youth conference that is to be held by PDP at Gupkar is hereby not allowed," the order reads.
The order directed the Station House Officer, Ram Munshi Bagh, to ensure that "no such event takes place at Gupkar without permission of the competent authority". gns