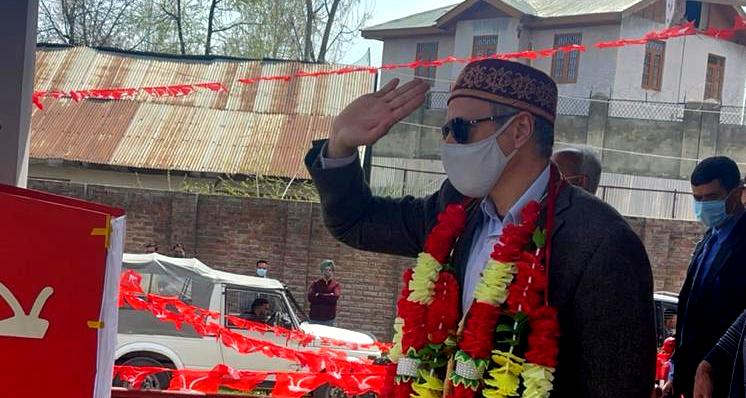 Bhaderwah, Dec 1: National Conference Vice President Omar Abdullah on Wednesday expressed disappointment over the step-motherly treatment being meted out to regions in Chenab valley by the incumbent administration.
Addressing a public meeting at the main town in Bhaderwah, Omar Abdullah said credit goes to NC for bringing neglected Chenab Valley region on the development radar.
"Chenab region remained neglected and marginalized for decades altogether due to the discriminatory policies propagated by the non-NC state governments. It was only during NC led governments that this region was brought on the developmental map and a comprehensive tourism, education, health, electricity infrastructure came up," he said, adding, "During our tenure, we had formulated a complete plan for the overall growth of this region. But the successive governments and the current central rule liquidated all the gains made by NC in its stints in power."
Among others who were present included party General Secretary Ali Mohammad Sagar, Provincial President Jammu Rattan Lal Gupta, senior leader Sajjad Kitchloo, Advisor to VP Tanvir Sadiq, YNC PP Ajaz Jan, Brig Mohan Sharma, Dr Shaid. The meet was organised by Mehboob Iqbal.
Stating that only NC can ensure equitable and balanced development of all the regions and sub-regions of Jammu and Kashmir, Omar said, "Systematic efforts are being made to divide the people of Chenab on the basis of region and religion. The massive infrastructure development in Bhaderwah in our tenure unnerved such forces. It is our disunity that helped these anti-J&K forces to realise their goals. What happened is before us. The state stands bifurcated, downgraded and shorn of its special constitutional status."
Omar further said that as and when the central rule ends, NC will strive for a divisional status to the entire Chenab region. He said that the tourism potential of the beautiful valley is immense and needs to be tapped to remove unemployment among the educated and skilled youth of the region. "National Conference, as and when central rule ends, is committed to bring big tourism projects to the region including Gondola cable car projects," he said.
Referring to the unilateral decisions of 5th August 2019, he said that all the projected promises have deflated and the ground situation belies the claims of the central government. He said that the soaring unemployment rate, high inflation, and administrative inertia gives ditch to the claims of GOI.
"Far from bringing peace and development to the region, the days and months that followed the unilateral and unconstitutional decisions of 5 August 2019 saw the return of targeted killings, return of bunkers, political instability, insecurity and escalation of violence. Today forces are being stationed in marriage halls, forces imprint has increased on ground. Pockets, which were declared militancy free are again witnessing a rise in militancy related incidents. In our times nearly 40 bunkers were removed in Srinagar. Today Srinagar presents a garrison-like look," he said.
Reiterating his party's stand on the restoration of constitutional rights of the people of Jammu and Kashmir, he said, "We are fighting for exclusive rights of our youth on jobs, we are fighting for our land rights, we are struggling for restoration of democracy, we are fighting for the future of our children and the forthcoming generations. There is no question of pulling out from this struggle. Our means are peaceful, democratic, and constitutional."