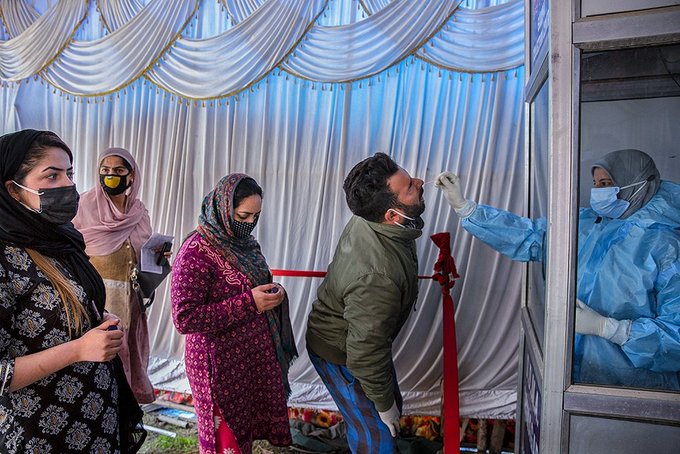 Srinagar, Nov 23: Jammu and Kashmir Tuesday witnessed two deaths and 179 fresh positive cases taking the number of total active cases in the Union Territory to 1,647.
With two more deaths, the death toll in the UT stands at 4,464 and 179 fresh positive cases reported on Tuesday have pushed the tally of positive cases to 335,707.
Of the exact number of 335,707 cases, 210,868 are from Kashmir division and 124,839 from Jammu division. Officials said that among 179 new cases, 149 belong to Kashmir division while as 30 are from Jammu division, adding that the total number of positive cases in Kashmir division have reached to 210,719 including 207,024 recoveries and 2,281 deaths while as total number of positive cases in Jammu division have reached to 124,839 including 122,408 recoveries and 2,183 deaths
The officials said that the total number of active cases in Jammu and Kashmir are 1,647 including 1,399 from Kashmir division and 248 from Jammu division.
With 195 more recoveries, the tally of total recoveries in Jammu and Kashmir has reached 329,596 which is 98.17 percent of the total cases.
"Cases tested positive in J&K include 59 from Srinagar, 38 from Baramulla, 09 from Budgam, 02 from Pulwama, 05 from Kupwara, 03 from Anantnag, 02 from Bandipora, 10 from Ganderbal, 00 from Kulgam and 00 from Shopian in Kashmir division while as 32 from Jammu division include  19 from Jammu, 00 from Udhampur, 01 from Rajouri, 03 from Doda, 00 from Kathua, 00 from Samba, 00 from Kishtwar, 01 from Poonch, 00 from Ramban and 08 from Reasi," officials disclosed.
Meanwhile, authorities on Tuesday said that no fresh cases of Mucormycosis popularly known as black fungus was reported in the UT and tally stands at 49.
As per officials figures, 76,895 positive cases including 862 deaths and 75,468 recoveries are from Srinagar, 25,214 including 286 deaths and 24,587 recoveries are from Baramulla, 24,087 including 23,792 recoveries and 209 deaths are from Budgam, 15,581 including 15,336 recoveries and 194 deaths are from Pulwama, 14,683 including 166 deaths and 14,401 recoveries are from Kupwara, 16,658 including 16,431 recoveries and 205 deaths are from Anantnag, 9,946 cases including 9,778 and 104 deaths are from Bandipora, 10,688 including 10,466 recoveries and 79 deaths are from Ganderbal, 11,505 including 11,379 recoveries and 117 deaths are from Kulgam and 5,611 including 5,550 recoveries and 59 deaths are from Shopian.
In Jammu division, 53,560 including 52,281 recoveries and 1,150 deaths are from Jammu district, 11,431 including 11,288 recoveries and 137 deaths are from Udhampur, 11,310 including 11,055 recoveries and 238 deaths are from Rajouri, 7,913 including 7,762 recoveries and 133 deaths are from Doda, 9,346 including 9,188 recoveries and 152 deaths are from Kathua, 7,163 including 7,041 recoveries and 120 deaths are from Samba, 4,822 including 4,776 recoveries and 44 deaths are from Kishtwar, 6,513 including 6,403 recoveries and 98 deaths are from Poonch, 6,054 including 5,984 recoveries and 67 deaths are from Ramban and 6,727 including 6,630 recoveries and 43 deaths are from Reasi.
As per the daily information bulletin 4,293,919 persons in Jammu and Kashmir are under observation while 6,009 persons have been kept under home quarantine besides that 1,647 persons are in isolation.
According to the bulletin, 3,849,085 persons have completed the surveillance period and 432,714 persons are under home surveillance besides that so far results of 17,274,570 samples are available. Out of 17,274,570 the number of samples tested negative stands at 16,938,863 while as 335,707 have tested positive, among them 1,647 persons are active, 329,596 persons have recovered and 4,464 persons have died.