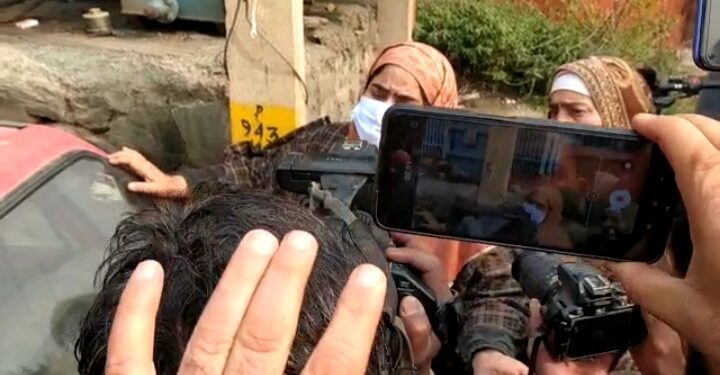 Srinagar, Nov 16: Family of house owner, a father of three minor children with youngest being 2-year-old, on Tuesday contested police claims and demanded justice and handing over of the body to them.
"We want justice. Hand our body to us," Abdul Majed, brother of Altaf Ahmad Dar said.
"Our brother was working in Hyderpora Srinagar. He had six shops there. The first storey building has been rented by him to property dealers. At 5 p.m., military (police and army) came and there was cordon. The shops were asked to be closed," he said, adding, "Then around 30-40 persons were confined in Honda shop. Then there was burst (firing). Then my brother was taken out and told that search is to be carried. Then after some time, they again confine our children in the shop. Later they brought drone etc and then they took my brother again, saying that fresh search is to be carried. After some time, he was again kept with these persons. Third time, they again asked him to come out for searches. This time he was killed."
Majeed has two daughters—one is 8-years-old and another 11-year-old and another is two-year-old children. "They have been orphaned."
He said one of killed is from Banihal Gool who was working as peon with property dealers. "people would call him doctor and I don't know his real name."
Majeed said his brother Altyaf called him when the cordon was there. "Had there been militants, would they remain there. I want to say that we want justices. Give us body so that we complete last rites. If it is proved that my brother was even remotely involved, come and destroy our house," he said, adding, "Even though he was my brother, he was like my child," he said and broke down. "Give us justice. Give us body. When we asked for body, they did not give us," he said, adding, " There is no response. They are only lying." There was no further conversation possibly given his emotional state.
Meanwhile family of Mudasir Gull also staged protest in Press Enclave here and demanded his body. "His children are waiting for him and asking for 'baba'. They don't know that even his body is not being given," some wailing women told reporters here.
Talking to reporters at press enclave Srinagar, mother of Mudasir Gul said that her son was not an OGW, but a doctor and he had no links with the militants. "He was not an OGW he was just a doctor and was earning for his family," said her inconsolable mother.
She said that they want his body to perform his last rites. "My son was innocent, Why was he killed. What was his crime?," she questioned.
She said that he was not a militant, but a doctor. "We appeal to the authorities to give us his body. We want nothing now except his body," she said.
"We didn't know anything about it and police informed us that they had sent his body to Handwara. We were extremely devastated at that time. We beg to the authorities to give us his body", said family members of Mudasir. (gns and kns)