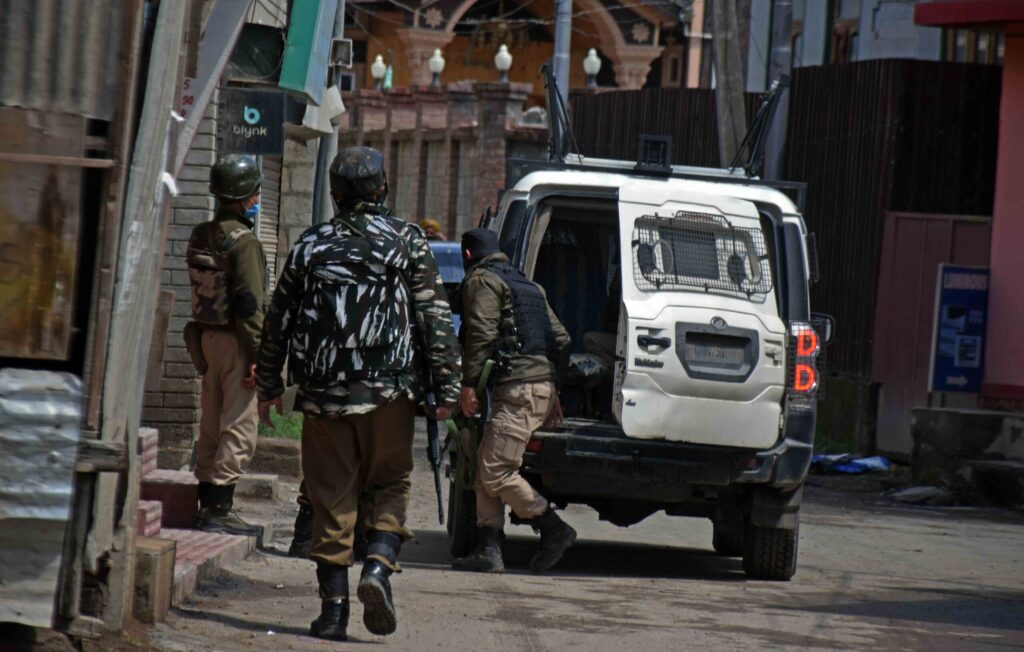 Srinagar, Nov 16: Inspector General of Police Vijay Kumar on Tuesday said that four persons were killed in an "encounter" at Hyderpora Srinagar and included house owner of the particular building who had rented out first storey to another person who was also among those killed and claimed to be an "OGW".
"Yesterday, in the afternoon, police received information that there are militants present near Hyderpora on Jammu-Srinagar highway. Police, CRPF and army laid a cordon. Later, searches started," the IGP said addressing reporters here.
"There were three rooms in top storey (atop shops run by owner Altaf Ahmad Dar). Since location was not known and owner Alfaf Ahmad Dar and one doing business there, Mudasir Gull. They both knocked and militants did not open the door. Again they were given opportunity; then again the door was knocked. The militants started firing and in self-defense our troops opened fire and encounter started," he said, adding, "We then stopped encounter and tried to rescue both of them and the place where they got trapped, it was hard to rescue them. Both were killed and in the ensuing encounter, two militants were also killed."
One of "militants", he said, has been identified as Bilal Bhai. "Some call him Hyder. He was probably Pakistani militant and other is local militant, most probably from Ramban Gool," he said, adding, "
We have called his family, we will show (family) and he will get identified. We have taken DNA samples."
He said last night police approached Altaf's and Mudasir's family to participate in funeral. "Since we apprehended law and order situation, we did not give bodies to families. Bodies were taken to Handwara (in north Kashmir's Kupwara district) where this morning they were buried," he said.
The IGP said "I want to share that Altaf Ahmad Dar had given rooms on rent to Mudasir Gull who was contractor by profession and was running unauthorized call centre. Six cabin and in one room there was militants hideout where from lot of things were found."
"I want to share that two pistols were found from encounter site and six phones from militants and 4 phones were recovered from room. Six computers and six CPUs were there. Warm clothes were found. Also injections used by (militants) during injury were recovered," he said, adding, "I want to share with you that there was firing on police party in downtown (Nawa Kadal) in which one of our policeman sustained injury in neck. Same militant was involved. Mudasir had ferried him in his own vehicle to this building. Also Mudasir was running in the garb of business. He was ferrying militants from south to north and then keeping them in his house and militants used to carry activities."
Regarding the owner, he said, "since militants were in his house, we will include him in harbouring and we will include him among OWG. Since his death took place in cross firing, we regret same. We tried to save him but it was difficult as firing was going from both sides. Mudasir was top ranked OGW and was involved in militancy."
On asking why you are including Altaf for harbouring when he had rented out the premises, the IGP said, "See if you are giving premises on rent, it is your responsibility. It is our responsibility. We was not given any information who was given in rent."
When asked about recovery of phone and that it is nothing new and that everyone carries phones along with them and would you share about the evidence to substantiate claim, the IGP said, "I cannot now. It pertains to digital-technical unit and other operation will get hamper and I will share whatever possible."
He said a Special Investigation Team (SIT) headed by Deputy Inspector General (DIG) of Police has been constituted to probe "hi-tech hideout".
Asked that the family says that Altaf has been killed in "cold blooded murder" and demanded body, "I myself said that Altaf's death occurred in cross firing.
When encounter takes place, nobody knows in whose bullet hit and cause death. if there is pistol fire, 100 per cent death is due to militant fire and it will be revealed I postmortem."
Asked about whether he could you throw light on Banihal "militant", he said, "I have already said about him."
Asked about running of an hideout on highway, he said: "I believe it is a security lapse. Intelligence lapse. This is on NH and on top floor. We are working hard and if there is such any hideout we will keep on busting." (GNS)