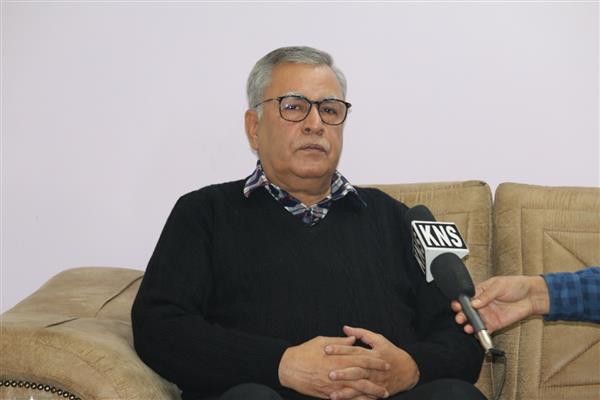 Srinagar, Nov 14: Farooq Khan, advisor to Jammu and Kashmir Lt. Governor, Manoj Sinha has said that the politicians who are making hue and cry about various things including civilian killings and functioning of bureaucracy, should go back to their own tenure and see what they have done. 
Khan said that the politicians, who are making hue and cry of the incidents, should go back to see their own tenure and see what they have done, which would be a best reply to their queries.
He said that the politicians have every right to make statements, for their political gains, but people of Jammu Kashmir are well aware of the truth. "Leaders can make political statements for their political benefits as they also have the Right to Expression, but public is aware of everything especially the people of Kashmir who are more awakened. Let politicians do their own work and let the administration and forces do their own," he said.
Talking about the recent outreach of the Central government, Khan said that there was the time, when no one from the Centre was visiting Kashmir, but when it is happening now, the outreach is turning out to be fruitful, because whatever has been demanded, the double of that has been given by the union ministers.
He said that like an infrastructure development scheme for agriculture was announced under which no project has been started in Jammu Kashmir till date, but during the recent outreach by the agriculture minister, Narendra Singh Tomar, he announced a major project under this scheme.
"This was unexpected earlier but this is turning out to be true only after the outreach of the union minsters. The union ministers did, what the ministers of Jammu Kashmir couldn't do during their own tenure," he said.
While referring to statements of several politicians, that the people do not have access to the bureaucracy, he said, that the bureaucrats have been always been there even in the time of elected governments, but due to the quantum of work it is not possible for bureaucrats to be available for the public every time, but still they are trying to be connected with the public as much as possible.
He said that recently an order was issued wherein administrative secretaries have been directed to hold public interaction once in a week, but a bureaucrat cannot have multiple interactions with the public, because it has direct implications on the welfare schemes of the government as they have to take their time off from their routine works, wherein they are preparing these welfare schemes. kns