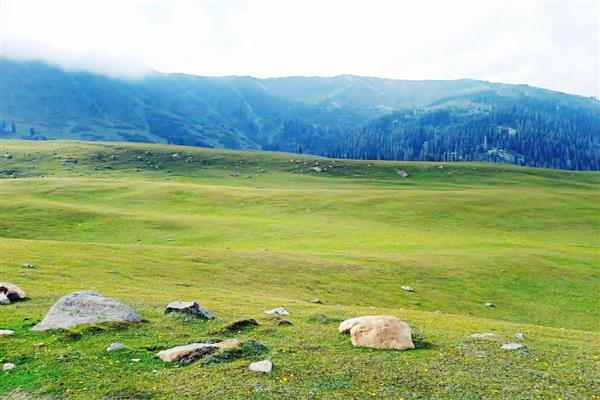 Budgam, Nov 13: Zugoo Kharian, a village in central Kashmir Budgam district has become the first tourist village of the Kashmir Valley with homestay.  
During a function organised in the village, deputy commissioner Budgam, Shahbaz Mirza said that today is a big occasion for Zoogu-Kharian and its adjacent habitations as this day marks the new beginning of socio-economic upliftment of this area.
"The area has been brought on tourism map, which shall go a long way in shaping the future of Zoogu- Kharian."
Mirza said that faith and efforts together made this day possible and in near future the people of this area will see the difference. "To materialize this, co-operation, sincerity attitude, hospitality, honesty and strong commitment is very much required in changing the whole socio-economic dimension and diversity of this area," he said.
As per the details homestay facilities will also be available here with an aim to boost tourism in the region, as well as generate employment and income for the local youth.
Referring to this, a local from the area said that while holidaying at this spot, visitors often seek for a place which is located amid natural surroundings, which at the same time gives them a feeling of staying at home away from home.
"The facilities of homestay in the village will fulfil this requirement of visitors, besides adding to the income of villagers," he added.
Notably, Jammu and Kashmir Lieutenant Governor, Manoj Sinha in September this year launched Jammu and Kashmir Tourist Village Network under Mission Youth.
As per the initiative, 75 villages of the Union Territory that are known for their scenic beauty, historical relevance, and cultural significance, will be transformed and brought on tourism map.
Records suggest that in terms of tourist influx, Jammu and Kashmir is at the top position in the country. In the month of July, Jammu and Kashmir witnessed around 10.5 lakh tourists, while the figure touched 11.22 lakh in August. kns