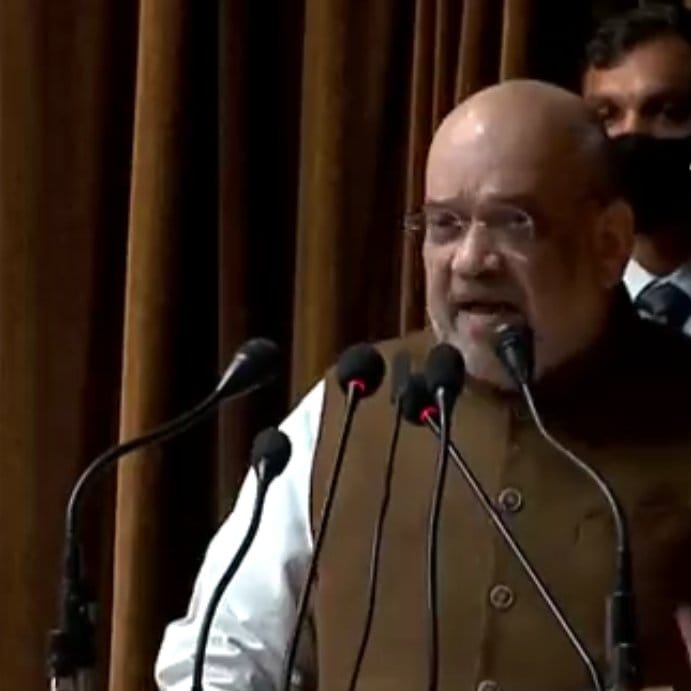 Jammu, Oct 24: The Union Home Minister, Amit Shah on Sunday while attacking the opposition parties of Jammu and Kashmir including NC, PDP and Congress said that "Dadagiri" of three families will no longer work in Jammu and Kashmir.
He said that what did these three families give to Jammu and Kashmir for 70 years- 87 MLAs and 6 MPs. "Modi Ji has done the work of making 30,000 people elected representatives, a Panchayat has been formed in every village. Now 'Dadagiri' of these three families will not work," Shah said.
He also said that people of Jammu will no longer be sidelined as the time for sidelining them has come to an end and Jammu will be treated equally in every respect.
Shah, who was addressing a public rally in Jammu's Bhagwati Nagar area, said that he came to Jammu today to assure the people of that time of injustice is over now and no one can do injustice with the people of this region.
"Some are trying to disrupt era of development here, but I want to assure you that no one will be able to disturb the era of development," Shah said.
Amit Shah encouraged the youth of Jammu and Kashmir to work for the development of J&K and defeat the 'sinister design' of militants who are trying to disrupt the peace in the region.
He said that both Kashmir and Jammu will be developed together and nobody can stop the era of development that has started in J&K.
Shah also remembered Prem Nath Dogra on his birth anniversary. "Today is the birth anniversary of Prem Nath Dogra. People of India can never forget him. He along with Shyama Prasad Mukherjee gave the slogan that in a country two vidhan, two nishan, two pradhan will not work," he said.
Shah also targeted political parties such as PDP, NC and Congress and said that they slammed the centre's idea of bringing investment in J&K.
"When we introduced new Industrial policy, three families that exploited J&K, used to mock who will come here. However, due to PM Modi's feat, Rs 12,000 crore investment has come till now to J&K and we aim a total of Rs 51000 crore investment by the end of 2022," Shah added.
In veiled reference to opposition parties Shah said that some people are raising questions some people are raising questions about security. "Between 2004-14, 2081 people lost their lives, 208 people per year have been killed. From 2014 to Sep 2021, 239 people lost their lives. We're not satisfied as we want to build a situation where nobody losses their lives and terrorism completely ends," he said.
Making a sincere appeal to the youth, Shah said that militants will fail in their conspiracies if the youngsters of the valley join the development process. Centre is committed to save the lives of the people of J&K and to end the militancy completely.
Notably, Amit Shah is on a three-day visit to Jammu and Kashmir. This is his first visit after the centre revoked article 370 and bifurcated J&K into two union territories on August 5, 2019.
Earlier, today Amit Shah inaugurated new campus of IIT Jammu and laid the foundation stone of a medical college. kns