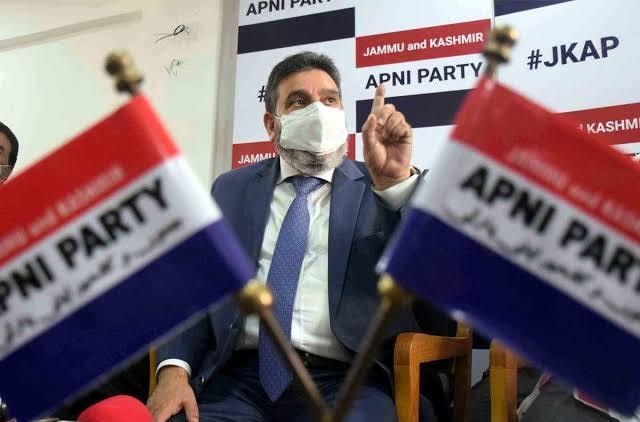 Rafiabad, Oct 16: The Jammu and Kashmir Apni Party (JKAP) president Altaf Bukhari Saturday said that all the regional political parties have come down to the demands based on which their party was formed that include the statehood for J&K, job and land protection.
Talking to reporters on the sidelines of an event at Rafiabad, Bukhari said that the regional parties like, National Conference (NC), Peoples Democratic Party (PDP), Peoples Conference (PC), and others have given hoax assurances to the people.
"All the regional mainstream political parties have come down to the demands raised by the Apni party. On 8, March 2020 Apni party was formed to restore statehood to Jammu and Kashmir and provide land and job protection for the benefit of people," Bukhari said.
"After wasting more than a year all the regional parties like NC, PDP, PC, and others are now raising the same demand," he said.
Bukhari while questioning the regional parties said that they sell the people that they will fight for the restoration of Article 370 and 35A and they were the only party that said that the matter is pending before the Supreme Court of India.
"They used to say that they won't allow even anything to move before the restoration of Article 370 and 35A," Bukhari said while raising fingers at the mainstream parties. "Have they once again made hoax promises with the people of Jammu and Kashmir and was that yet another betrayal for common masses."
About elections in Jammu and Kashmir, Bukhari said that elections must be held very soon in the region since people are in dire need of grassroots democracy as they are suffering.
"Our preparations are underway to strengthen the party ahead of the elections", he said.
Bukhari said that his party was formed on three points which include statehood to the region, land, and job protection of which two have been achieved by them (JKAP) without the support of any other political leader or party.
Bukhari pointed out that the elements working to divide the people of Kashmir and Jammu division and create a rift won't ever get success. "This region will live together. Both will get statehood together and all will live in the everlasting exemplary brotherhood and all the ill attempts made will not work," he said.
JKAP had organized a joining drive at Rafiabad in north Kashmir's Baramulla district where a 30 year old PC worker joined the party along with his team. kno