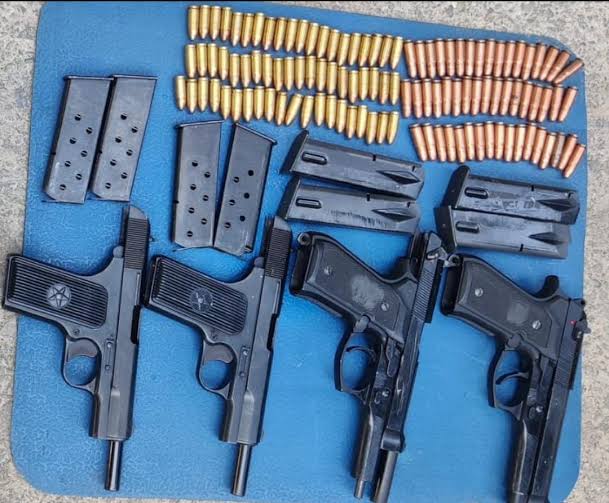 Jammu, Sep 27: Ahead of festival season, Border Security Force (BSF) on Monday achieved a big success when they recovered a huge cache of Arms, Ammunition, Narcotics and FICN from the International border in Akhnoor area.
A BSF spokesman said that acting on a specific input, a search operation was conducted near the International Border in Akhnoor area.
"During search, a bag was found hidden in thick Sarkanda grass," the spokesman said, adding that on opening, it was found containing, four pistols, eight magazines, 7.63 x 25 MM Rounds – 100 Nos.
"In addition to arms and ammunition a packet containing narcotics (likely Heroin) weighing about 1 kg estimate worth Rs.2,75,000/- was also found inside the bag," the spokesman said.
He said that this consignment was likely to be delivered to the anti-national elements to disturb peace but BSF foiled their nefarious attempts by seizing the consignment.
"Yesterday, Jammu and Kashmir Police said they arrested a militant of The Resistance Front (TRF), an offshoot of the Lashkar-e-Taiba, near Jammu railway station on Sunday," the spokesman said.
It is worth to mention that nine-day long Navratri festival begins October 7 when pilgrims from across the country and abroad throng the holy cave shrine of Shri Mata Vaishno Devi in Katra. kno