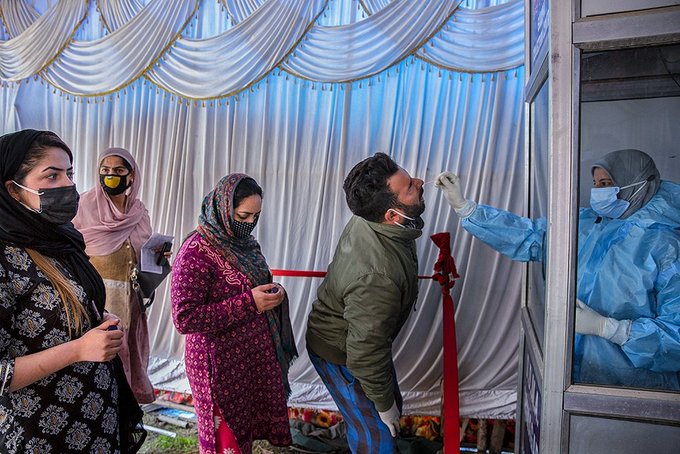 Srinagar, Sep 22: Jammu and Kashmir Wednesday witnessed 204 fresh positive cases taking the number of total active cases in the Union Territory to 1,536 while no death was reported in UT in the last 24 hours.
With no more deaths, the death toll in the UT has stood at 4,419 and 204 fresh positive cases reported on Wednesday have pushed the tally of positive cases to 328,418.
Of the exact number of 328,418 cases, 204,585 are from Kashmir division and 123,560 from Jammu division. Officials said that among 204 new cases, 159 belong to Kashmir division while as 45 are from Jammu division, adding that the total number of positive cases in Kashmir division have reached to 204,858 including 201,321 recoveries and 2,247 deaths while as total number of positive cases in Jammu division have reached to 123,560 including 121,142 recoveries and 2,172 deaths.
The officials said that the total number of active cases in Jammu and Kashmir are 1,536 including 1,290 from Kashmir division and 246 from Jammu division.
With 118 more recoveries, the tally of total recoveries in Jammu and Kashmir has reached to 322,463 which is 98.18 percent of the total cases.
"Cases tested positive in J&K include 80 from Srinagar, 14 from Baramulla, 28 from Budgam, 07 from Pulwama, 04 from Kupwara, 05 from Anantnag, 07 from Bandipora, 14 from Ganderbal, 00 from Kulgam and 00 from Shopian in Kashmir division while as 45 from Jammu division include 04 from Jammu, 01 from Udhampur, 04 from Rajouri, 01 from Doda, 01 from Kathua, 04 from Samba, 01 from Kishtwar, 01 from Poonch, 00 from Ramban and 28 from Reasi," officials disclosed.
Meanwhile, authorities on Wednesday said that no fresh cases of Mucormycosis popularly known as black fungus was reported in the UT and tally stands at 46.
As per officials figures, 73,839 positive cases including 838 deaths and 72,214 recoveries are from Srinagar, 24,201 including 282 deaths and 23,786 recoveries are from Baramulla, 23,509 including 23,142 recoveries and 207 deaths are from Budgam, 15,426 including 15,199 recoveries and 194 deaths are from Pulwama, 14,330 including 166 deaths and 14,132 recoveries are from Kupwara, 16,505 including 16,280 recoveries and 205 deaths are from Anantnag, 9,712 cases including 9,576 and 101 deaths are from Bandipora, 10,260 including 10,110 recoveries and 79 deaths are from Ganderbal, 11,472 including 11,335 recoveries and 117 deaths are from Kulgam and 5,604 including 5,544 recoveries and 58 deaths are from Shopian.
In Jammu division, 53,125 including 51,925 recoveries and 1,143 deaths are from Jammu district, 11,397 including 11,251 recoveries and 137 deaths are from Udhampur, 11,152 including 10,895 recoveries and 237 deaths are from Rajouri, 7,724 including 7,536 recoveries and 133 deaths are from Doda, 9,289 including 9,137 recoveries and 151 deaths are from Kathua, 7,146 including 7,019 recoveries and 120 deaths are from Samba, 4,809 including 4,753 recoveries and 44 deaths are from Kishtwar, 6,342 including 6,239 recoveries and 97 deaths are from Poonch, 6,013 including 5,940 recoveries and 67 deaths are from Ramban and 6,562 including 6,447 recoveries and 43 deaths are from Reasi.
As per the daily information bulletin 3,485,882 persons in Jammu and Kashmir are under observation while 8,010 persons have been kept under home quarantine besides that 1,536 persons are in isolation.
According to the bulletin, 3,010,939 persons have completed the surveillance period and 460,978 persons are under home surveillance besides that so far results of 14,460,335 samples are available. Out of 14,460,335 the number of samples tested negative stands at 14,131,917 while as 328,418 have tested positive, among them 1,536 persons are active, 322,463 persons have recovered and 4,419 persons have died.