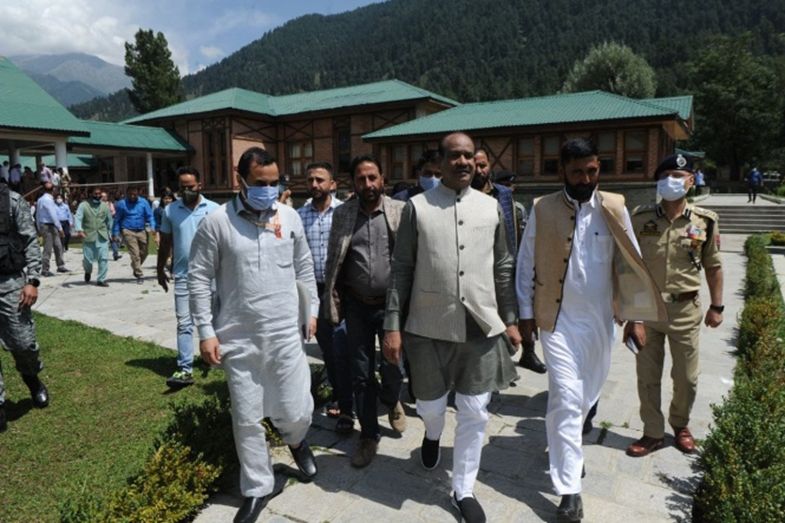 Srinagar, Aug 31: The Lok Sabha speaker Om Birla, Thursday said that the government is committed and working to strengthen the Panchayat Raj and a framework has been furnished to improve the lives of common man.
The Lok Sabha Speaker is on a visit to the Union Territory of Jammu and Kashmir and is presently in Srinagar, as a part of the Parliamentary Outreach Programme, aimed to strengthen the Panchayati Raj Institutions in Jammu and Kashmir. He was earlier in the union territory of Ladakh.
Addressing the gathering at the SKICC the speaker said that deliberations were held with the panchayat representatives, and feedback was cooled as to how it can be strengthened and answerable more toward the general public so that they work together as per their aspirations and demands.
He said that the government is working to strengthen the Panchayat Raj system so that problems faced by the general public are eliminated well on time and how the life of the common masses can be improved with time.
"The public remains in close touch with the local panchayat and all the deliberations held here will reach the parliament for early disposal", the speaker said.
The speaker said that " the three tire systems here in Kashmir valley are functioning normally and they must work together for benefit of the general public and as per their aspirations besides youth and women must be empowered by them also they must contribute in making the villages Atmanirbhar."
The LS speaker said that panchayats should be answerable to the public and there must be proposals as per the aspirations of people so that people are benefitted in every village since the government is supposed to ease their sufferings and a framework has been furnished for the same.
He appreciated the UT administration for successfully conducting the panchayat elections saying that people by large took part in the electoral process which strengths the political structure of the country with the result there is are regular deliberations with the people.
The speaker highlighted the successfully conducted maiden BDC elections in Jammu and Kashmir.
He informed that more than 300 parliamentarians have come to Jammu and Kashmir since 2019 and interacted with people on the ground aimed to that lead the union territory of Jammu and Kashmir towards progress while a deep faith is gained.
"I hope that panchayats will be more people-friendly in times to come and work in coordination for more progress besides ensuring that the villages become Atmanirbhar", the speaker said. kno