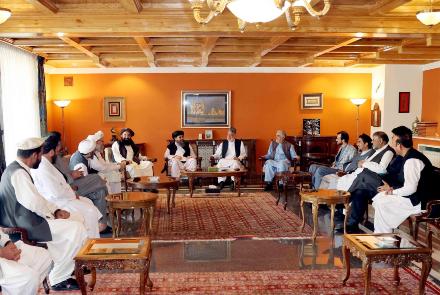 Kabul: Former Afghan president Hamid Karzai and Abdullah Abdullah, the chairman of the High Council for National Reconciliation, met with Taliban political office members on Saturday, the Tolonews reported. 
Karzai and Abdullah met with Taliban political office members Maulawi Shahabuddin Delawari Delawar, Abdul Salam Hanafi, Khairullah Khairkhwa and Abdul Rahman Feda at Abdullah's house in Kabul, reports said.
Both sides "exchanged views on the current security and political developments, and an inclusive political settlement for the future of the country," Abdullah's office said.
"Abdullah's office did not provide further details about the meeting."
Also on Saturday, reports said, Karzai and Abdullah met with Abdul Rahman Mansour, the Taliban's acting governor for Kabul, Abdullah's office confirmed and "discussed the security of the citizens of Kabul, and reiterated that protecting the life, property and dignity of the citizens of the capital should be prioritized."
Both Karzai and Abdullah added that in order for Kabul to return to normalcy, "it is imperative that citizens of the capital feel safe and secure."
Abdullah's office also mentioned that Mansour pledged "he would do everything possible for the security of the people of Kabul."
In the past week Karzai and Abdullah have met most of the members of the Taliban leadership in Kabul and discussed an inclusive government, but no further details about the meetings has been shared with the media, said reports.
A senior Taliban official was quoted saying that the framework for the creation of the new government is expected to be announced in the next few weeks.
Sources have said that the Taliban and other Afghan political leaders have continued their discussions on the formation of a new government, however, there have been no discussions on main issues so far, reports said.
The Taliban completed a lightning takeover of Afghanistan on Sunday, walking into the capital Kabul without firing a shot. (Tolonews)