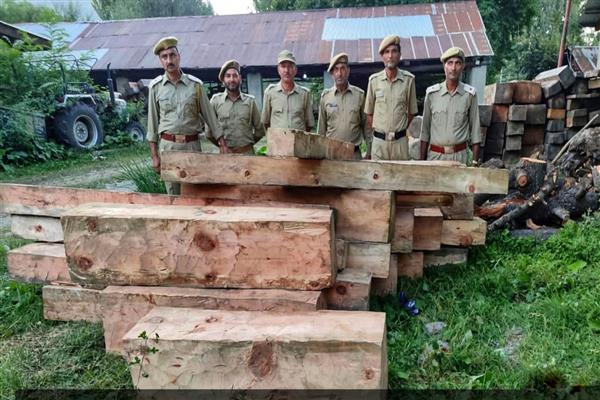 Baramulla, Aug 17: In a major operation carried out by Forest Protection Force K- 07 Baramulla unit, huge quantity of illicit timber was seized from the premises of a joinery mill in Vijibal Doabgah locality of North Kashmir's Baramulla district on Tuesday.
An official said that the joinery unit belonging to Mohammad Ashraf Sofi located in Doabgah forest range was under watchlist of department as the unit was involved in illicit timber trade.
"Today an input was received regarding presence of illicit timber dump in his house and accordingly a party was deputed for carrying out checking operation. The party seized illicit timber Deodar/Kail 24 No.s=84.91 cft from his house during the search operation and it was taken into safe custody," said Irfan Rasool Joint Director FPF Kashmir.
The accused persons Mohammad Ashraf Sofi and his accomplice Manzoor Ahmed Khan have been booked in the instant forest damage case.
As per reports, these accused persons have been involved in causing damages to forest in compartments 2 and 3 of Doabgah Range and today's seizure operation is being hailed as major success in forest protection efforts.
An official said that a formal report has been submitted by FPF and Range officer Doabgah to Police Station Sopore for registering FIR in the instant case. kns