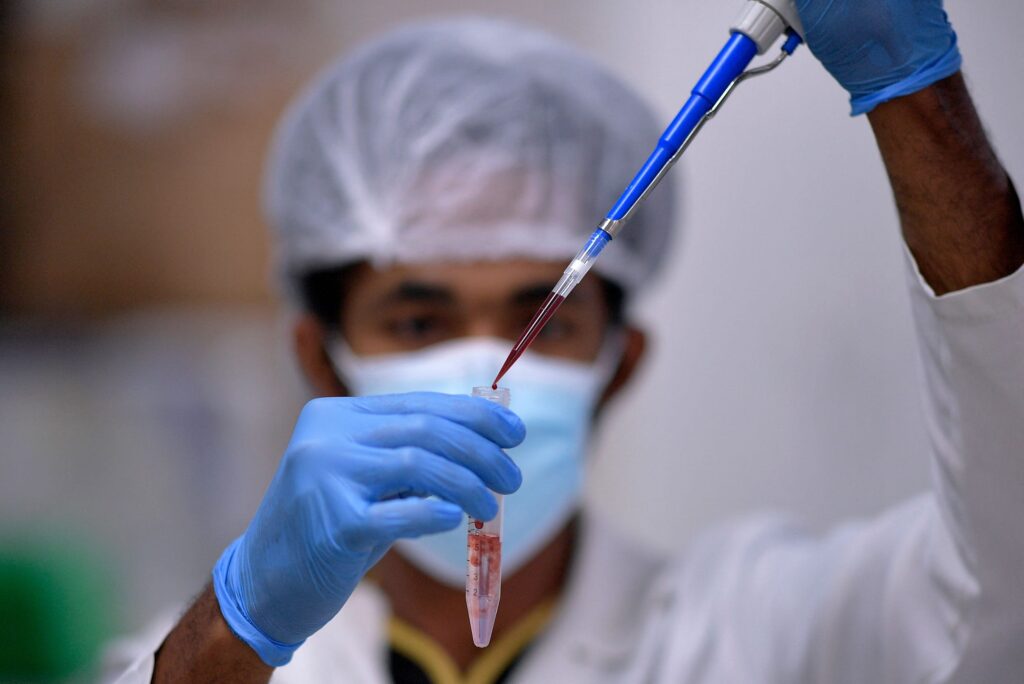 Srinagar, Aug 11: The Jammu and Kashmir Union territory on Wednesday witnessed one death and 114 fresh positive cases, taking the number of total active cases in the UT to 1,297.
With one more death, the death toll in the UT has reached 4,393  and 114  fresh positive cases reported on Wednesday have pushed the tally of positive cases to 322,885.
Of the exact number of 322,885 cases, 200,582 are from Kashmir division and 122,303 from Jammu division.
Officials said that among 114 new cases, 80 belong to Kashmir division while as 34 are from Jammu division, adding that the total number of positive cases in Kashmir division have reached to 200,582 including 197,593 recoveries and 2,239 deaths while as total number of positive cases in Jammu division have reached to 122,303 including 119,602 recoveries and 2,154 deaths.
The officials said that the total number of active cases in Jammu and Kashmir are 1,297 including 750 from Kashmir division and 547 from Jammu division.
With 114 more recoveries, the tally of total recoveries in Jammu and Kashmir has reached to 317,195 which is 98.24 percent of the total cases.
"Cases tested positive in J&K include 27 from Srinagar, 11 from Baramulla, 04 from Budgam, 02 from Pulwama, 20 from Kupwara, 01 from Anantnag, 06 from Bandipora, 04 from Ganderbal, 05 from Kulgam and 00 from Shopian in Kashmir division while as 34 from Jammu division include 08 from Jammu, 01 from Udhampur, 13 from Rajouri, 06 from Doda, 00 from Kathua, 01 from Samba, 05 from Kishtwar, 00from Poonch, 00 from Ramban and 00 from Reasi," officials disclosed.
Meanwhile, authorities on Wednesday said that no fresh case of Mucormycosis popularly known as black fungus was reported in the UT and tally stands at 37.
One Covid death has been reported from GMC Anantnag.
As per officials figures, 71,719 positive cases including 834 deaths and 70,576 recoveries are from Srinagar, 23,736 including 282 deaths and 23,366 recoveries are from Baramulla, 22,984 including 22,705 recoveries and 206 deaths are from Budgam, 15,240 including 14,999 recoveries and 194 deaths are from Pulwama, 14,137 including 165 deaths and 13,925 recoveries are from Kupwara, 16,346 including 16,117 recoveries and 205 deaths are from Anantnag, 9,531 cases including 9,374 and 100 deaths are from Bandipora, 9,989 including 9,842 recoveries and 78 deaths are from Ganderbal, 11,312 including 11,163 recoveries and 117 deaths are from Kulgam and 5,588 including 5,526 recoveries and 58 deaths are from Shopian.
In Jammu division, 52,877 including 51,601 recoveries and 1,140 deaths are from Jammu district, 11,355 including 11,166 recoveries and 137 deaths are from Udhampur, 11,006 including 10,707 recoveries and 228 deaths are from Rajouri, 7,374  including 7,135 recoveries and 128 deaths are from Doda, 9,268 including 9,113 recoveries and 151 deaths are from Kathua, 7,127 including 7,002 recoveries and 119 deaths are from Samba, 4,695 including 4,601 recoveries and 44 deaths are from Kishtwar, 6,285 including 6,157 recoveries and 97 deaths are from Poonch, 5,980 including 5,895 recoveries and 67 deaths are from Ramban and 6,336 including 6,225 recoveries and 43 deaths are from Reasi.
As per the daily information bulletin 3,001,629 persons in Jammu and Kashmir are under observation while 9,051 persons have been kept under home quarantine besides that 1,297 persons are in isolation.
According to the bulletin, 2,610,874 persons have completed the surveillance period and 376,014 persons are under home surveillance besides that so far results of 12,364,041 samples are available. Out of 12,364,041 the number of samples tested negative stands at 12,041,156 while as 322,885 have tested positive, among them 1,297 persons are active, 317,195 persons have recovered and 4,393 persons have died.