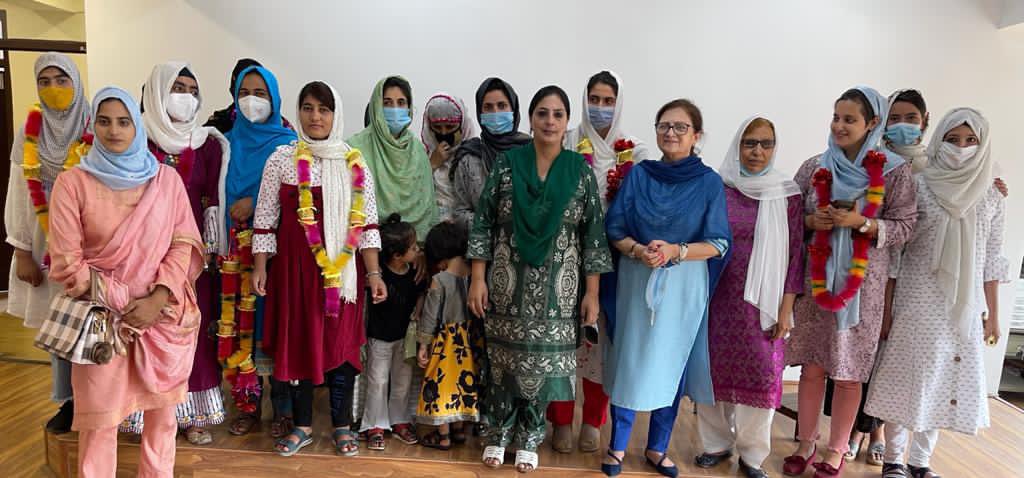 Srinagar, August 07: The Jammu and Kashmir National Conference on Saturday underlined the indispensability of women's stake in development and policy making, saying the party has been persistently working towards removing under-representation of women in politics to have policies more attuned to women's needs. 
This was stated by Party's State Women's Wing President Shameema Firdous while addressing a meeting of women functionaries here at Party Head quarters Nawa e Subha. Among others Party's Provincial President Women's Wing Er. Sabiya Qadri, Additional Spokesperson Ifra Jan and Provincial Secretary Aisha Jameel were also present on the occasion, which also marked joining of scores of prominent and educated women socio-political activists into the party fold.
Those who joined the party fold on the occasion include Rabia Wani, Syeda Naseem, Iqra Bhat, Haleema ji, Shabnum Ji, Rukksana Ji, Safeena Ji, Zoya Ji from Handwara; Mewa Jan, Gazala Ji from Bandipura and Sabza Ji, Shaista Ji, Shabnum Ji, Arfa Ji,Adv. Rubeena Rasheed Ji from Kupwara.
In her address, Shameema Firdous said that the state of Jammu and Kashmir under the capable leadership of Sher-e-Kashmir Sheikh Muhammad Abdullah through state-led feminism under the revolutionary manifesto of Naya Kashmir saw women of Kashmir benefit from a number of economic and educational opportunities in the decades that followed independence. She said nowhere in world had the state itself become a purveyor of feminism as happened in Jammu and Kashmir. She said the struggle of Madre Maharban bore anticipated results in improving women's knowledge, self confidence, voice and political and social standing. Shameema stated that the exemples of Madre Maharban also created a cycle marked by greater women's representation in polity, education, health services, and other sectors. She said the indigenous; grass-roots women's movement led by Madre Maharban that emerged in Kashmir was nationally and globally acclaimed.
Exhorting the women functionaries, she said that it was good to see women be part of decision making process, saying the measure will help attune the policies and development agenda to the needs and requirements of Women. "It was the dream of Sheikh Sahib and Madre Maharbaan who wanted to see women partake in the decision making process. I hope that the women DDC members will utilize the democratic spaces which they have occupied in a positive manner to realize the party's manifesto by becoming a bridge between people and the party," she said.
She added that the revolutionary gender neutral voting in terms of adult franchise and sustained gender neutral policies of NC went a long way in securing women their due rights in the society. kns