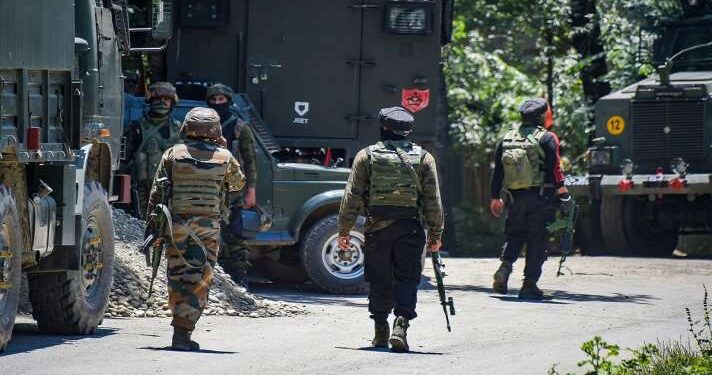 Srinagar, July 31: Police on Saturday said two wanted militants behind 2019 Lethpora IED blast, including its 'mastermind', were killed in a gunfight in forest area of Namibian and Marsar of Dachigam forest in Pulwama district on Saturday.
"On a specific input generated by Police regarding presence of (militants) in the forest area of Namibian and Marsar, general area of Dachigam forest, a joint cordon and search operation was launched by Awantipora Police and Army in the area," a police spokesman said.
During the search operation, the hiding militants fired on the joint search party, which was retaliated, leading to the encounter.
In the ensuing encounter two militants were killed, he said. They have been identified as "top most" Pakistani militants Mohammad Ismal Alvi alias Lamboo alias Adnan of Jash-e-Mohammad and Sameer Dar.
As per police records, the spokesman said, Lamboo was A++ categorized militant and figured among the list of most wanted militants operating in the valley.
"He was a highly trained militant especially expert in making of IED. He was instrumental in planning and executing attacks on security establishments and civilian killings," the spokesman said, adding, "He was the mastermind and main accused in the February 2019 Lethpora Fidayeen attack."
He was also involved in the killing of SPO Fayaz Ahmed, his wife and daughter in Tral, recently, the spokesman said.
Besides, the spokesman said he was also instrumental in motivating and recruiting the youth to join militant folds and also motivating local youth for stone pelting and other activities.
Moreover, the spokesman said that Lamboo was carrying out militant activities in police district Awantipora, Pulwama and Anantnag.
"He was a close associate of Abdul Rehman alias Fauji alias Idrees Bhai of Multan Pakistan who alongwith two local associates killed in an encounter at Kangan Pulwama on 3 June 2020."
The police said that  Lamboo was trying to re-establish and strengthen JeM outfit and utilize Awantipora especially Kakpora and Pampore area of Pulwama as a "hot bed" for receiving new militant groups and transporting them to the other parts for carrying out militant attacks.
He said Lamboo was closely associated with Jaish chief Masood Azhar and had infiltrated into this side of Kashmir in the year 2017 through Sakargadh sector.
"He had also visited several training camps of JeM in Afghanistan and Pakistan," the spokesman said as per the statement .
He had earlier escaped from many encounters or cordon and search operations including at Doniwari Chadoora Budgam on 3 March last year, Parigam Jagir Pulwama on 19 November 2020 and Kalenvan, Bijbehara Anantnag on 7 July 2021.
Regarding Sameer Dar, the spokesman said that he was A+ category militant of Pulwama and was also involved in Lethpora attack in February 2019 . "He figured in NIA's chargesheet," the tweet reads
It is worth to mention here that there were 19 accused militants and OGWs involved in Lethpora attack case.
"Out of 19 militants, eight including Adil Dar, Mudasir Khan, Umar Farooq, Kamran, Qari Yasir,Sajjad Bhat and today Lamboo and Sameer Dar were killed in encounters, seven militants or OGWs have been arrested and five are still absconding."
The spokesman said incriminating materials besides arms and ammunition including one AK-rifle, one M-4 Carbine, a Glock pistol and Chinese Pistol were recovered from the site of encounter.
Meanwhile, in a joint press conference Corps commander 15 corps, IGP Kashmir and GoC Victor Force congratulated the joint teams of Police and Army for the "big success".
Lamboo had trained Adil Dar who blew IED at Lethpora on Feb, 14, 2019: Army
Top security officials on Saturday claimed to have achieved a major success by killing Lamboo—the Jaish-e-Muhammad's IED expert, a master recruiter and the "mastermind" stating that the slain had trained fidayeen Adil Dar who blew an IED at Lethpora on February 14, 2019 in which 40 CRPF men were killed.
Lamboo along with another JeM commander Sameer Ahmed Dar, according to security officials, were killed in an encounter at Nambian-Marsar woods of Dachigam in southern district of Pulwama. Lamboo was killed along with another Jaish militant whose identity is yet to be ascertained. Addressing a joint presser at army's Srinagar-based 15 Corps headquarter, GoC 15 Corps D P Pandey, IGP Kashmir Vijay Kumar and GoC Victor Force termed the killing of Lamboo as a major success for security forces.
"Saifullah alias Adnan alias Lamboo was active for the past few years in south Kashmir. Based on an input generated by the police, boys from Victor Force launched an operation in the dense woods of Dachigam area of Pulwama on July 27. Given the fact that weather was inclement, so all cautions were taken," GoC 15 Corps told reporters .
He said that today morning, contact was established with the militants and in the ensuing encounter, Jaish's IED expert, who was also a highly trained militant, was killed along with his associate.
"He has been responsible for carrying out many attacks, recruiting young boys and brainwashing them. He would also give weapons and training to the new recruits," GoC 15 Corps said. "The importance of killing of Lamboo is manifold. He was the mastermind of February 14, 2019 Lethpora attack. In fact, Lamboo had trained local militant Adil Dar who blew an IED at Lethpora."
The slain militant was a master recruiter as he would lure youth into militancy, give them weapons and training as well, the GoC 15 Corps said.
Speaking on the occasion, IGP Kashmir Vijay Kumar said that Lamboo alias Adnan alias Saifullah is a relation of Jaish chief Masood Azhar and had infiltrated into this side of Kashmir in 2017. "There were 14 FIRs registered against him and he was the mastermind and main accused in the February 14, 2019 Lethpora fidayeen attack," the IGP said. "In total, there are 19 accused. Seven have been arrested and with Lamboo seven have been killed. Five are still absconding." He said that in its chargehseet, NIA had also named Lamboo.
Replying to a query, the IGP said that this year so far 89 militants have been killed. "The number is less than the previous year but the number of militant commanders is high," he said. Chipping-in, the GoC 15 Corps said that this year no infiltration bid has taken place. "The number of militants is between 200 to 225 and it is decreasing," he said. To a query whether it was true that some boys who had gone to Pakistan administered Kashmir on a "student visa" had picked up arms their and later crossed over to this side, the IGP said: "In total 40 youth had gone to PaK on student visa, 27 out of 40 picked up arms and got killed here. Those who are still across are in touch with families, and we are keeping a tab on it." (kno)