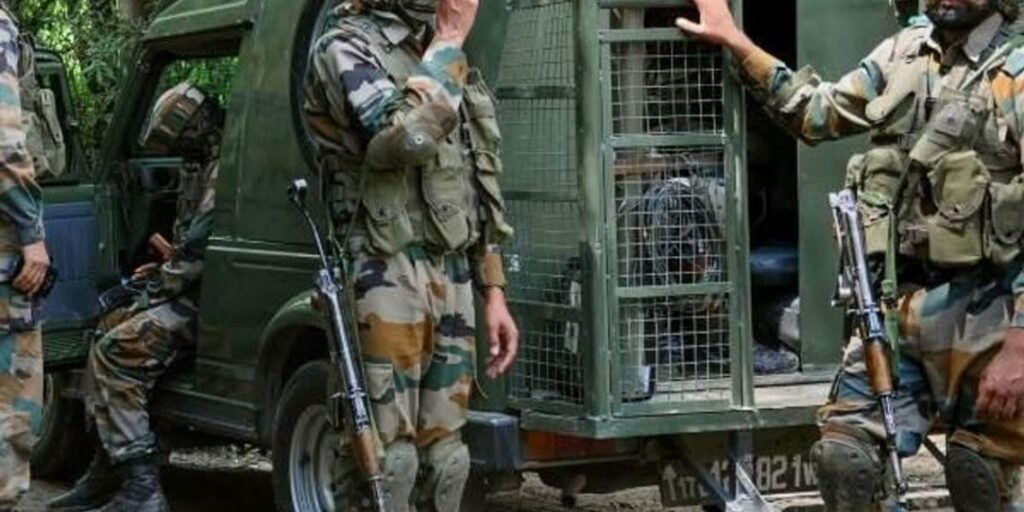 Anantnag, Jul 27: The family members of Imran Ahmad Dar, a resident of Batengoo Anantnag, who was killed in a gunfight at Munad area of Kulgam district, have contested police claim stating that their son had no connection with militancy and that he was a civilian.
Zahid Ahmad, the brother of slain Imran, his brother said that that Imran had a small argument with father few days before and he left home, however, he was with his friends in their own village and they used to see him on daily basis.
"On Sunday morning, my father received calls from local sarpanch followed by duty officer Khanbal to reach police post and even warned of dire consequences if he failed to do so. My father was at duty and requested him that once he will back, he will be there," Zahid said. "Later in afternoon, my father again received a call to reach police post as the caller told him that he has to identify a body and when he went there, he was shown a photo, however, he couldn't identify him, following which he called us and we too went there where we were asked to reach one officer to another and finally his photo was shown and we identified him.".
Zahid further said that they requested police for body but at around 5 pm they were asked to go PCR Srinagar. "After reaching PCR, we were told that he has been buried at Handwara in afternoon and we returned back," he said. "Neither, have we seen Imran's body nor we know where he has been buried."
Zahid said that they have written to Deputy Commissioner Anantnag to investigate the matter and to order an impartial probe. "We were assured by the deputy commissioner that within three days, matter will investigated," he said.
Zahid's father Abdul Qayoom Dar, in a letter shot to DM Ananatnag Piyush Singla, has stated that he received a call at 8 am on Sunday from the village's sarpanch who told him that the police wanted him to present himself along with his son at the police post in Khanabal.
"After some time, I received one more call from the police post Khanabal itself and they too informed me [of] the same," Dar stated in his letter. "I took the matter lightly as I couldn't think in my wildest dreams that anything terrible would happen. At about 4:00 pm I reached the] police post at Khanabal where they showed me the photograph of my son's body."
At this point, the news of the gunfight and killing of one militant was already circulating across multiple platforms. "I was in a deep state of shock to see the photograph of my dead son. I contacted D.O [Duty Officer] concerned and Dysp [Deputy Superintendent of Police] Ashiq who assured me that you can collect the body of your son from PCR [Police Control Room] Srinagar which is lying there," the letter reads. "At the same time, I along with my family rushed to PCR Srinagar where we were informed that the dead body had been despatched to graveyard Handwara for proper burials about 2: 30 Pm. And we were asked that you are late and the concerned police post should have informed the family and at the same time they should have intimated us about the claimant of the body. Now it is submitted that my son namely Imran Qayoom Dar was not involved in militancy-related activities neither has any member of our family supported any anti-national activities ever."
The letter further states that "My son was a civilian and we hadn't a lot of doubt about that. He was moving freely like any other civilian. Last time he was seen by me at a petrol pump on 24-07-21 at 6:00 P which is nearby our house, within less than 24 hours I saw the photograph of his dead body assuring me that he was killed in a fake encounter at Munad Kulgam," the letter reads. "Now request your good self-kindly, look into the matter personally and help the family to retrieve his dead body and an FIR should be lodged to investigate the matter properly so that Justice is delivered as we are law abiding family," the letter reads. The family members have also demanded an impartial probe in this regard. kno