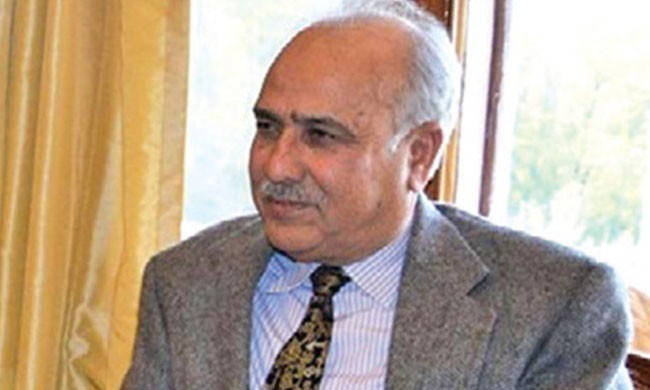 New Delhi, Jul 27: National Conference (NC) Member of Parliament from Anantnag Justice (Retd.) Hasnain Masoodi on Tuesday brought the impasse that has hit the construction of the AIIMS facility at Awantipura to the notice of Union Defence Minister, Rajnath Singh, impressing upon him to sort out the issue so that the huge populace of entire south Kashmir is able to avail the facility as soon as possible.
While drawing the attention of the defense minister towards the stalemate that has hit the project, Masoodi as per a statement said that the work on the project has stopped as the army's local unit had red flagged the construction as possible violation to the WODA.
"The much-touted project has hit a roadblock following the objections raised by the local unit of army, which is of the view that the construction could compromise a military garrison nearby," he said.
Masoodi further stated that the delay in sorting out the issue has impacted the construction work on the prestigious project, which was approved by the central government in 2019.
"The project is scheduled to be completed by 2025. However, the army's objection could delay the construction of a much needed and first of its kind all India level institute in the valley. The south Kashmir populace, I brought to the notice of the concerned minister, doesn't have such a medical facility of the standard of AIIMS. I told him that the project is much needed in south Kashmir districts to cater to its huge populace. Such a project, I implored upon him, will give a much needed boost to the health care facility in four districts of South Kashmir," he said.
He impressed upon the concerned minister to solve the matter and give required clearance to the said project fore with so that the local populace is able to benefit from the facility.
"There ought to be a close coordination between the civil administration and the army for the early execution of the work. The concerns raised by the army should also be factored into the construction plans," he said.
The concerned minister assured the Member of Parliament that the ministry will clear the project on priority basis so that the local populace is able to avail the health facility.
Meanwhile, Masoodi also called on Hardeep Puri, Union Minister of Civil Aviation and asked him to take necessary steps that include constitution of a committee to make the civilian flights operating from the Awantipura Airfield.
"The defense ministry has already in-principle given the approval for the civil flights operations from Avantipura under regional connectivity scheme. So far the approval hasn't paved the way for operation of a second airport for civilians in Kashmir. I impressed upon the civil aviation minister to do the needful so that the facility is made operational forthwith," he said adding, "Since Kashmir is a tourist destination, and land-locked, there is growing demand for such additional civilian airport facilities. The measure will ease the burden from the main civilian airport and give a boost to the tourism sector in the entire south Kashmir."