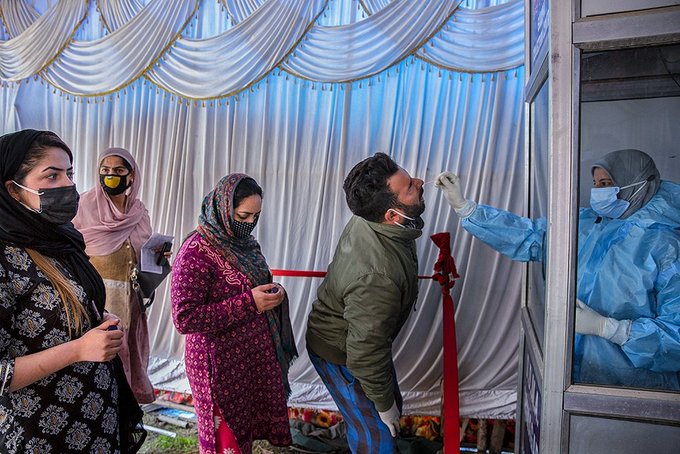 Srinagar, Jul 17: The Jammu and Kashmir Union territory on Saturday witnessed one death due to Covid-19 while as 179 fresh positive cases were also reported, taking the number of total active cases in the UT to 2,017.
With one more death the death toll in the UT has reached to 4,363 and 179 fresh positive cases reported on Saturday has pushed the tally of positive cases to 319,755.
Of the exact number of 319,755 cases, 198,579 are from Kashmir division and 121,176 from Jammu division. Officials said that among 179 new cases, 117 belong to Kashmir division while as 62 are from Jammu division, adding that the total number of positive cases in Kashmir division have reached to 198,579 including 195,161 recoveries and 2,231 deaths while as total number of positive cases in Jammu division have reached to 121,176 including 118,214 recoveries and 2,132 deaths.
The officials said that the total number of active cases in Jammu and Kashmir are 2,017 including 1,187 from Kashmir division and 830 from Jammu division.
With 277 more recoveries, the tally of total recoveries in Jammu and Kashmir has reached to 313,375 which is 98.004 percent of the total cases.
"Cases tested positive in J&K include 59 from Srinagar, 06 from Baramulla, 12 from Budgam, 13 from Pulwama, 08 from Kupwara, 02 from Anantnag, 05 from Bandipora, 05 from Ganderbal, 07 from Kulgam and 00 from Shopian in Kashmir division while as 62 from Jammu division include 13 from Jammu, 01 from Udhampur, 10 from Rajouri, 15 from Doda, 01 from Kathua, 00 from Samba, 09 from Kishtwar, 06 from Poonch, 06 from Ramban and 01 from Reasi," officials disclosed.
Meanwhile, authorities on Friday said that no fresh case of Mucormycosis popularly known as black fungus was reported in the UT and tally stands at 33.
One covid death has been reported from Government Medical college Jammu.
As per officials figures, 70,917 positive cases including 832 deaths and 69,646 recoveries are from Srinagar, 23,484 including 280 deaths and 23,032 recoveries are from Baramulla, 22,799 including 22,499 recoveries and 204 deaths are from Budgam, 15,095 including 14,814 recoveries and 193 deaths are from Pulwama, 13,994 including 165 deaths and 13,758 recoveries are from Kupwara, 16,277 including 15,971 recoveries and 205 deaths are from Anantnag, 9,430 cases including 9,258 and 100 deaths are from Bandipora, 9,802 including 9,637 recoveries and 77 deaths are from Ganderbal, 11,209 including 11,041 recoveries and 117 deaths are from Kulgam and 5,572 including 5,505 recoveries and 58 deaths are from Shopian.
In Jammu division, 52,637 including 51,304 recoveries and 1,138 deaths are from Jammu district, 11,256 including 11,079 recoveries and 133 deaths are from Udhampur, 10,850 including 10,541 recoveries and 224 deaths are from Rajouri, 7,117 including 6,834 recoveries and 123 deaths are from Doda, 9,253 including 9,089 recoveries and 149 deaths are from Kathua, 7,116 including 6,959 recoveries and 119 deaths are from Samba, 4,591 including 4,488 recoveries and 43 deaths are from Kishtwar, 6,220 including 6,032 recoveries and 94 deaths are from Poonch, 5,940 including 5,807 recoveries and 66 deaths are from Ramban and 6,196 including 6,081 recoveries and 43 deaths are from Reasi.
As per the daily information bulletin 2,620,984 persons in Jammu and Kashmir are under observation while 9,180 persons have been kept under home quarantine besides that 2,017 persons are in isolation.
According to the bulletin, 2,300,563 persons have completed the surveillance period and 304,861 persons are under home surveillance besides that so far results of 10,967,488 samples are available. Out of 10,967,488 the number of samples tested negative stands at 10,647,733 while as 319,755 have tested positive, among them 2,017 persons are active, 313,375 persons have recovered and 4,363 persons have died.