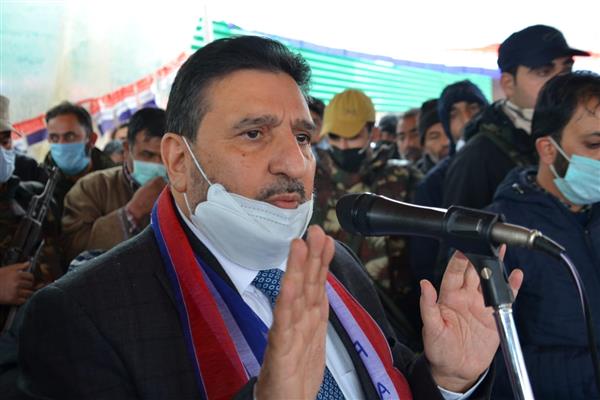 Srinagar, July 15: Apni Party President Syed Mohammad Altaf Bukhari on Wednesday said that holding Assembly elections at an earliest remains imperative for the socio-political empowerment of the people in Jammu and Kashmir.
Addressing a joining ceremony at the party office in Lal Chowk Srinagar, Bukhari said that a provisional bureaucratic arrangement can never be an equal substitute for the elected form of government and all citizens of the country have the right to choose their own representatives who know their ground realities better.
"The elections will empower the people to choose their representatives in order to become masters of their own fate. In absence of an elected government, bureaucracy has only added to the woes of the people who seem completely disempowered in all the spheres of public life," he said.
Bukhari regretted the factors that have impeded the development in J&K and hoped for an early completion of the delimitation exercise that will eventually facilitate Assembly elections."In a democratic set-up, representative form of the government understands the pulse of the people and formulates its actions and plans accordingly. This spirit and essence of democracy is completely missing under the present bureaucratic regime in J&K," he added.
On this occasion various Panchayat members and political activists from district Kulgam led by Tahir Riyaz Reshi and Mohammad Ashraf Naik joined Apni Party.
Apni Party Senior Vice President Ghulam Hassan Mir also addressed the gathering saying that Apni Party is focused on developmental issues that directly affect the lives of the people of Jammu and Kashmir while we continue to debunk the false narratives that are being used to con the public for electoral gains.
"From day one Apni Party has been raising the socio-political and economic issues faced by the people of Jammu and Kashmir at all forums available to it. People should also critically analyze all the political parties on the basis of their agenda and delivery on the ground," he said.
Furthermore, Apni Party Provincial President Kashmir Mohammad Ashraf Mir, Media Advisor Farooq Andrabi and Provincial Secretary Abdul Rashid Haroon were also present at the joining ceremony.
The new entrants thanked the party leadership for providing them with a viable political platform and pledged to work diligently for public welfare besides strengthening the party at grassroots level. kns