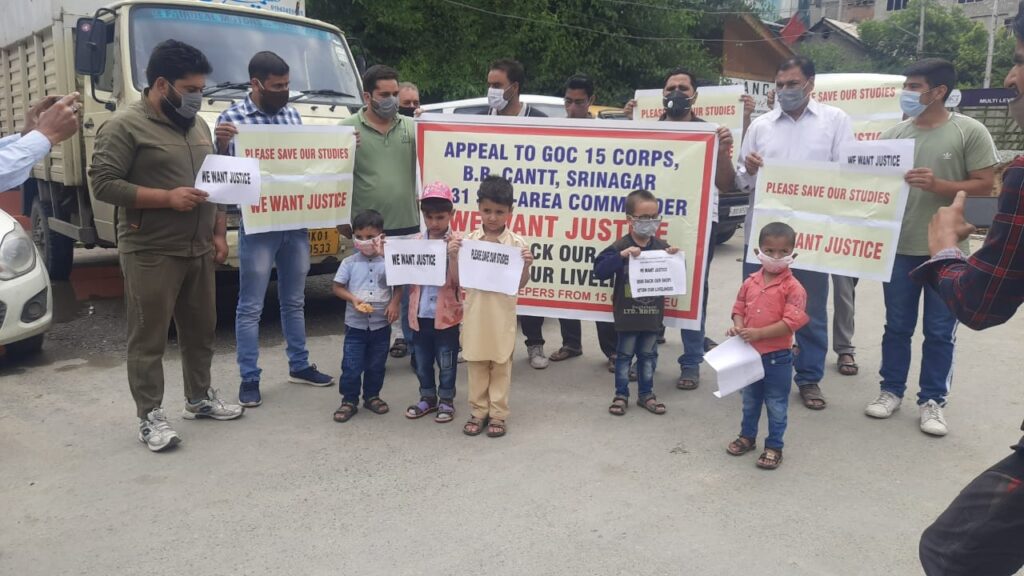 Srinagar, July 13: Shopkeepers whose shops have been handed over to ex-servicemen Tuesday yet again staged a protest along with their children here in Kashmir capital Srinagar, seeking the intervention of Army Commander into the matter.
At least 27 people both local and non-locals have lost their shops after they were asked to vacate by 31 Sub Area Commander. These shops are located at CBS Khrew Training Schools.
The evicted shopkeepers along with their children emerged in Press Enclave Srinagar to register their protest. They were carrying placards and banners seeking justice.
"We had been running these shops from past 25 years. In October 2019, we were served an eviction notice. We were informed that a new law has been enacted and these shops will be given to ex-service men. We approached the court of law but the irony is that the locks of our shops were broken and goods thrown out despite the matter being subjudice," one of the shopkeepers Firdous Ahmed Wani said.
Shopkeepers Association President Ghulam Mohiuddin said that before eviction notice they were allowed and renovate their shops. "We spent a lot of money on renovation but little did we know that these shops will be taken away from us and given to ex-service men. We request GoC 15 Corps to intervene and deliver justice," he said.
Pertinently, 27 shops were closed inside training school Khrew area of Pampore since 2019. The matter is subjudice. The protesting shopkeepers said that some of the shops have been handed over to ex-service men without waiting for the court decision.
The protesting shopkeepers appealed General Commanding Officer 15 Corps and 31 Sub Area Commander to do justice with them and don't deprive them of earning a livelihood. knt