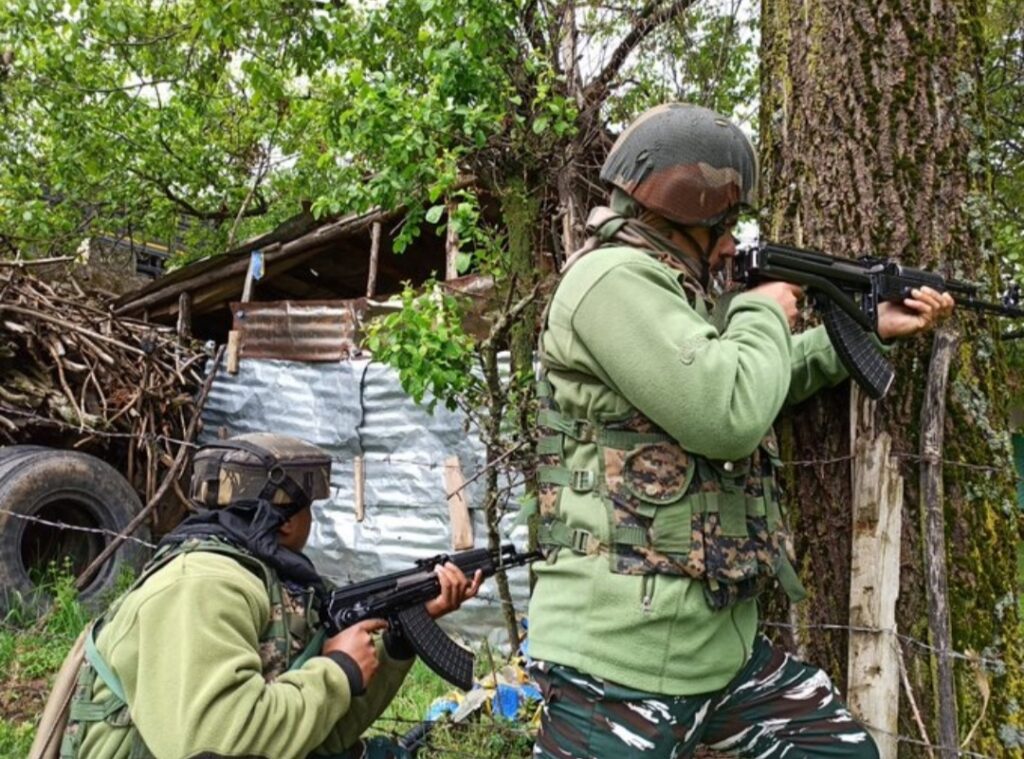 Srinagar: After a decline in encounters during Covid-19, the encounters in J&K especially South Kashmir, the hot bed of militancy have shown spurt with Lashkar-e-Toiba militant outfit loosing 15 of its men in just 11 days. 
Figures available suggest that in last 11 days, South Kashmir witnessed six encounters in which 15 militants were killed and all the slain were affiliated with LeT outfit.
Pertinently, of six encounters, three were reported in Kulgam district, two in Pulwama and one in Anantnag, however, there was no encounter in Shopian, the district where most of the gunfights were reported in the ensuing year.
Notably, 15 killed militants include two top commanders namely Neeshaz Lone of Tral Pulwama and Aarif Hajam of Sadoora, Anantnag
Police termed the killing of Neeshaz and Aarif a big success and said that Aarif was involved in killing of Army Havaldar Manzoor Beigh of 162 bn Territorial Army on June 6, 2019 while he was on leave.
Pertinently, on June 30, three militants were killed in an encounter in Chimmer Noorabad area of South Kashmir's Kulgam district.
The slain militants were identified as Waseem Ahmad Bangroo of Redwani, Kulgam, missing since June 19, and Shahbaz Ahmad from Shopian. He was active since 2020.
Zakir Bashir from Chimmer, DH Pora Kulgam, who according to police had joined ranks recently was the third slain.
On July 2, five militants including a top commander were killed in a 17 hour long encounter in Hanjan village of Rajpora hamlet of South Kashmir's Pulwama district.
They have been identified as Nishaz Hussain Lone alias Khitab (district commander LeT) son of Manzoor Ahmed Lone, active since 2018 , resident of Nageenpora Tral, Danish Manzoor Shiekh son of Manzoor Ahmad resident of Sathergund Kakapora, Amir Wagay son of Ab Gani Wagay resident of Hanjan Payeen, Manzoor lone from Gurez and a foreign militant identified as Abu Rehan alias Tawheed resident of Pakistan. All the killed militants were linked with LeT."
On July 08, four militants were killed in two separate encounters in South Kashmir's Pulwama and Kulgam district.
In Pulwama two militants namely Kifayat Ramzan from Padgampora and Inayat Ahmad Dar Samboora were killed in an encounter in Puchal area of the district while in Kulgam two militants identified as Shahbaz Ahmad Shah a resident of Katrusu Kulgam and Nasir Ahmad Pandith from Redwani Kulgam were killed in brief encounter in Zadora Kulgam.
On July 09, militants managed to give slip to forces after exchange of fire in the Redwani area of Kulgam. However, July 10 saw killing of three militants in Sadoor Anantnag who were identified as Basit Ahmad from Telwani Anantnag and Suhail Ahmad from Pulwama were killed in an encounter in Kwaripora area of South Kashmir's Anantnag district. Police officials said that among the 15 slain militants, two were top commanders of the outfit and all the slain were affiliated with the LeT outfit. kno