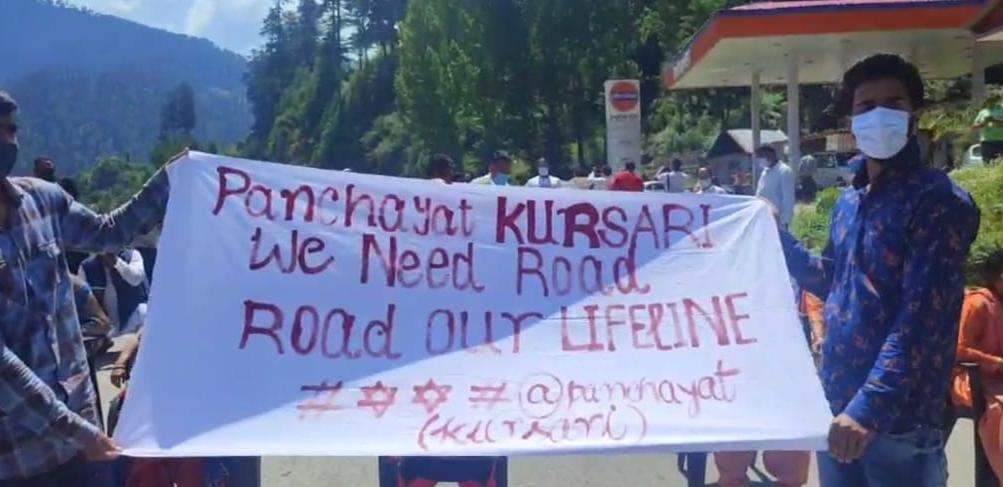 Jammu, June 26: Condemning the registration of FIR against villagers, including four sarpanches, in Bhaderwah for demanding road connectivity, Former Legislator of Peoples Democratic Party Firdous Tak Saturday said that while Bhartiya Janta Party was responsible for murder of democracy in Jammu and Kashmir, the administration was now even burying its very spirit by criminalizing dissent and putting curb on rightful protests.
Eight persons, including four sarpanches, were booked by the administration after villagers staged a protest seeking road connectivity during the official visit of one of the advisors of Lieutenant Governor to the sub division.
In a statement PDP condemned the arbitrary and unjustified action terming it against the basic idea of justice in democratic country. "It seems that the idea of democracy and its values are not permitted beyond Lakhanpur entry point into Jammu and Kashmir and administration has been let loose to trample the rights of people", Tak, who is also the spokesperson of the party said.
He said that the government has once again proven beyond doubt that the rights of the people were being "trampled" to justify the failures of the present administration in mitigating the sufferings of people.
"The administrative action was uncalled for, unjustified and unsubstantiated, removing the façade of fair play and against the democratic values in entirety", he said adding that while the ruling dispensation was trying to convey the world that it was strengthening the democracy at the grassroots level, the basic rights of dissent was being criminalized on the ground.
The statement further mentioned that it was unfortunate that the government was militating against those persons who in spite of the trying circumstances of the past came out to highlight the public issues. "Instead of looking into the grievance the administration is choosing to set deterrence in order to ensure that no voice is ever raised in any part of the erstwhile state".
"While those sitting in New Delhi talk of bridging the gap between the union capital and Jammu and Kashmir, the administration in the UT was enhancing the void between the power corridors and masses", he said adding that repeated incidents of such types across Jammu and Kashmir was an indication of how the things were being handled at the official level.
The party demanded that the FIR against all persons should be withdrawn immediately and government should focus on resolving the problems of the common masses instead using muscle power to curb their voices, the statement added. (