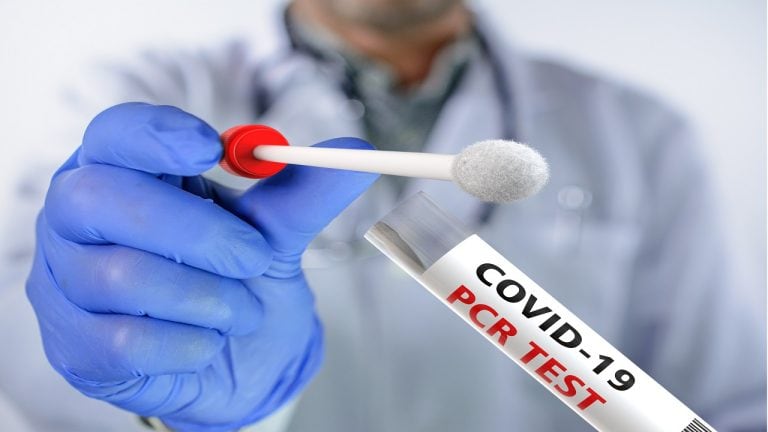 Srinagar: The Deputy Commissioner Srinagar, Mohammad Aijaz Asad said that Strict adherence to Covid-19 SOPs , Corona curfew, Containment measures, Testing, Vaccination have been the key parameters to contain spread of  Covid-19 infection in the district.
Briefing the media regarding the current  Covid-19 situation in Srinagar district, the Deputy Commissioner said that the positivity rate has shown a steep decline from peak 33% to 6.5 percent as on today. He said the decline in the positivity rate is a result of the active cooperation of the general public including Business /Transport  Community with the District Administration as they have followed all the necessary guidelines related to Covid-19 issued by the Government from time to time.
The Deputy Commissioner informed that about 7 lakh RAT and RTPCR Covid related tests have been done so far in the district and at present 3700 active Covid-19 positive cases are in Srinagar.
The DC said though visible decline in Covid positive cases has  been seen, we have to be extra cautious, by  following Covid Appropriate Behaviour with added responsibility and commitment to make entry into Green Zone.
Regarding recent Unlock directions, the Deputy Commissioner said this is a minimal Unlock and ease in the restrictions does not mean to violate Covid-19 SOPs. He reiterated his appeal to public to follow strict adherence to Covid-19 protocols and ensure proper wearing of masks, maintaining social distance and hand hygeine to save thier lives, family and whole Srinagar from the deadly disease of Covid-19. He also urged people to avoid unnecessary movements.
He said priority is to safeguard precious human lives for which all necessary measures are being taken by the district administration. He said any laxity with regard to Covid SOPs can prove disastrous.
With regard to ongoing Covid-19 Vaccination process, the Deputy Commissioner informed that population of about 3 lakh of target/ vulnerable groups have been administered Covid vaccine doses in the district and vaccination centers have been established across the City to cover the rest of targeted population.
The Deputy Commissioner said Vaccine Is a magic bullet to fight Covid-19  pandemic and urged the people of Srinagar to get vaccinated at an earliest to curb the Covid-19 pandemic.
"Similarly, on the directions of Lieutenant Governor, the district administration Sringar has setup Covid Care Centres in all 21 Panchayats of the district  equipped with Oxygen Concentrators, Oximeters and other necessary medical equipments, besides Medical and Paramedical staff to manage and contain the Covid-19 effectively in rural areas " said the DC.