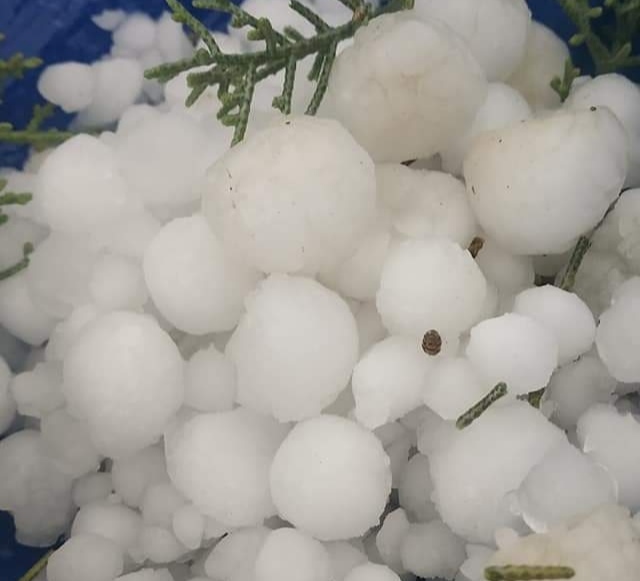 Srinagar, June 01: A hailstorm wrecked havoc in parts of Kashmir Valley including northern Kupwara district's Handwara, Budgam, South Kashmir parts damaging orchards and standing crops on Tuesday.
Reports said that the hailstorm started at around 2:43 p.m. in Mawer Qalamabad Handwara's Lawoosa, Yahama, Mawer Bala, Sanzipora, Qalamabad, Audoora, Chontipora and Drangsoo shahnagri Villages in North and Chraresharief, Khag, Chadoora, Poshker and several places in Budgam district. It lasted for about 10 minutes, causing an extensive damage to orchards including apple, almond, walnut and cherry besides standing crops, vegetables and paddy saplings.
The hailstorm also devastated orchards and other standing crops in Ramhal area hamlets including in Harduna, Lillam, Kuneal, Dharael and Tarathpora.
A senior Horticulture official said that as per preliminary assessment, the hailstorm resulted in damage to nearly substantial percent of the expected production across over a dozen hamlets in Handwara and its adjacent areas.
Meanwhile people especially orchardists were seen consoling each other on the loss to expected production. "We have lost our major source of income", an orchardist said.
"The hailstorm has dashed our hopes amid this pandemic, what we will do now", the grieving orchardist said.
Similar scenes were witnessed at many other affected places in the area.
A group of affected orchardists urged the government to carry assessment of the damage caused and accordingly devise some relief plan to compensate them.
It is pertinent to mention here that a hailstorm of similar magnitude on May 6, as reported, dealt a severe blow to the orchards and standing crops in several areas in Handwara.
Meanwhile, hailstorm and loss caused by it was also reported from parts of Srinagar, especially on its eastern side, and other various districts. (With inputs from gns)