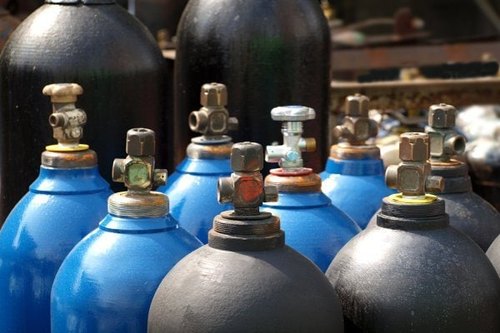 Kupwara, May 19: Authorities have ordered probe after at least forty oxygen cylinders have gone missing mysteriously from Sub-district hospital Kupwara. The CMO concerned on learning about the it has initially suspended three staffers at the health facility. 
An official privy to the development said that the hospital authorities were alerted after taking into account the total number of oxygen cylinders in the hospital. "The cylinders were to be sent back to Srinagar, the official said adding that however it came to fore during counting that at least forty cylinders were not found at hand. "The absence of cylinders was brought to the notice of Chief Medical Officer, who accordingly intimated the Deputy Commissioner Kupwara, the official said.
"After a consensus, the CMO concerned immediately suspended three staffers – Storekeepers – besides ordering a full-fledged probe to fix the responsibility against the erring employees", the official added.
Meanwhile Deputy Commissioner Kupwara Imam-ud-Din said that the matter pertaining to missing of oxygen cylinders from the SDH Hospital has been brought to his notice. "It tentatively has been learnt that forty oxygen cylinders have gone missing from the hospital following which an enquiry has been launched to the fix the responsibility", he said adding that three employees in charge of stores for oxygen cylinders have been placed under suspension.
"The things will be more clear once the enquiry is completed," he said adding that "If it happens that the suspended staffers are indicted post enquiry, due recoveries will be made from them."
Meanwhile the Deputy Commissioner has asked the employees to properly discharge their duties and utilize the government assets properly for the larger benefits of society.