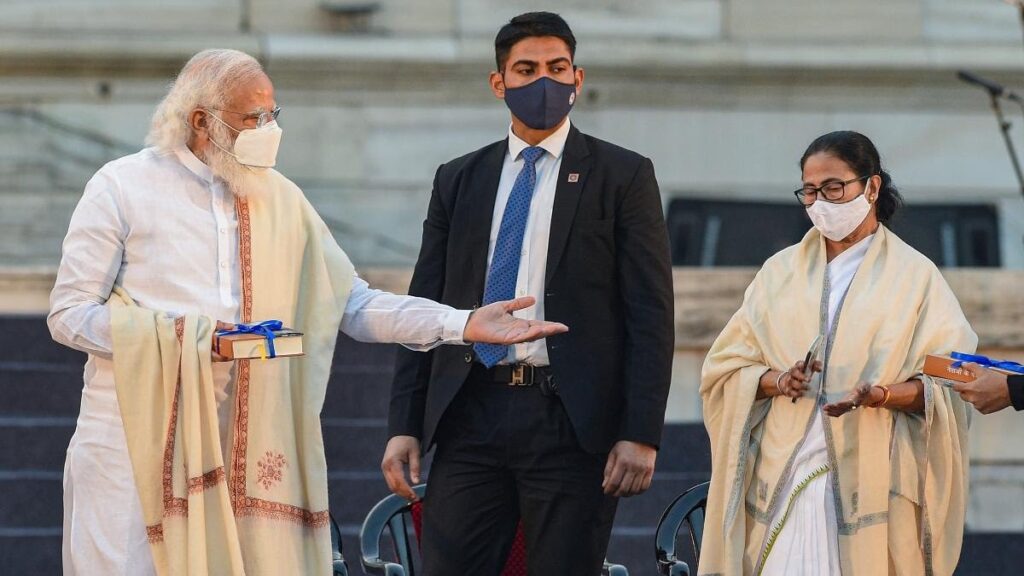 Delhi: Prime Minister Narendra Modi has  congratulated Trinamool Congress supremo Mamata Banerjee for her party's victory in the West Bengal Assembly election. Preliminary results show the TMC ahead on 212 assembly seats, reports said. 
In a tweet on Sunday, PM Modi wrote, "The Centre will continue to extend all possible support to the West Bengal Government to fulfil people's aspirations and also to overcome the Covid-19 pandemic."
According to the Election Commission of India's official website, the Trinamool Congress has won 38 seats and is leading on 174 seats, while the BJP has won 8 seats and is leading on 70. Polling for West Bengal's 294-member Legislative Assembly was held in eight phases between March 27 and April 29.
In another tweet, the Prime Minister said, "I would like to thank my sisters and brothers of West Bengal who have blessed our party. From a negligible presence earlier, BJP's presence has significantly increased. BJP will keep serving the people. I applaud each and every Karyakarta for their spirited effort in the polls."
Modi also congratulated MK Stalin of the DMK and Pinarayi Vijayan of the CPI(M) for their electoral victories in the states of Tamil Nadu and Kerala, respectively.
"Gratitude to the people of Kerala who supported our Party in these elections. I appreciate the efforts of our industrious Party Karyakartas, who will continue serving the people of the state and strengthen the party at the grassroots level," said the Prime Minister in a tweet.
In another tweet, he said, "I would like to thank the people of Tamil Nadu who supported NDA. I assure the people of Tamil Nadu that we will keep working towards the state's welfare and to further popularise the glorious Tamil culture. I applaud our Karyakartas for their hardwork."