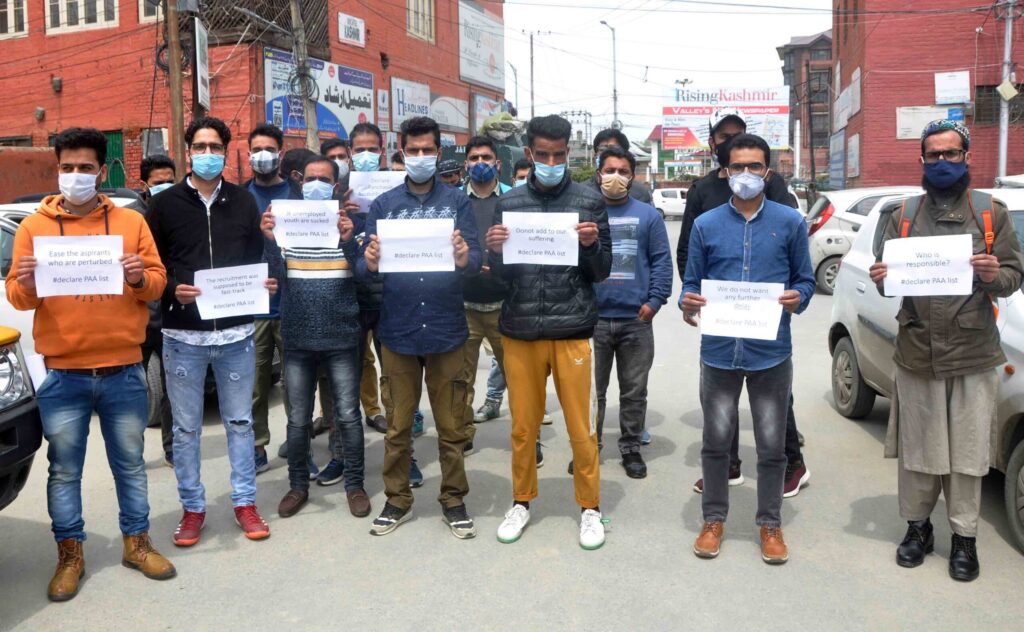 Srinagar, Apr 20: Scores of candidates who recently qualified the Panchayat Accounts Assistant examinations staged a protest on Tuesday against the authorities for failing to publicize the final selection list of the aspirants.
The Panchayat Accounts Assistants aspirants assembled here at Press Enclave to press for their demands.
Imtiyaz Reshi one of the protesting candidate rued that even after completing document verification Jammu and Kashmir Service Selection Board (JKSSB) since last nearly five months has failed to release the final selection list.
He added that the examination was conducted on November 10 previous year following which the provisional selection list was out in December a month later. "We were told that the selection list would be issued on fast track basis in just 45 days, however, months have elapsed since the results were out, but the candidates are still awaiting the final selection list," he said.
The unnecessary delay despite completion of the document verification process is "frustrating".
Another candidate Mehboob Hussain added a total of 1889 who passed the examinations conducted through SSB last year, have been awaiting the final selection list and are keen to serve the Union Territory.
Meanwhile, the candidates appealed to the Lieutenant Governor Manoj Sinha to personally intervene into the matter and ensure that the final selection list is made public without any further delay— (with inputs from kno)