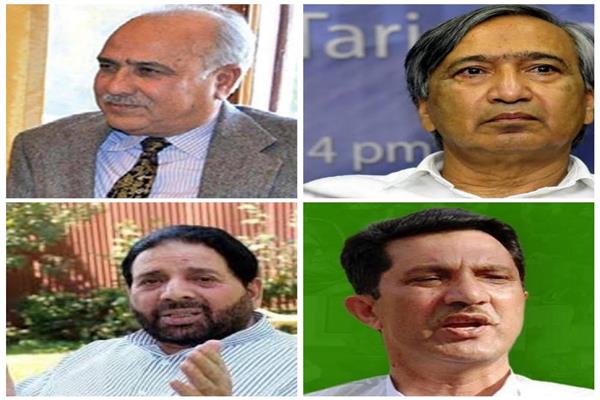 Srinagar April, 16: National Conference Member Parliament Justice (Retired) Hasnain Masoodi, CPI(M) Secretary M Y Tarigami have sought release of Hurriyat Conference (M) Chairman Mirwaiz's Molvi Umar Farooq saying that Mirwaiz's prolonged detention contradicts the government's claims about normalcy in Kashmir. 
Member Parliament Hasnain Masoodi said that by not allowing religious leader like Mirwaiz to move out to perform his religious duties the tall claims made by both the Central  and as well as  Jammu and Kashmir government are falling flat.
"By not allowing Mirwaiz, Mohammed Umar Farooq to offer prayers, the government is admitting that the situation on ground is not normal, he added. "We urge the government to set Mirwaiz free, to have his religious obligations".
The CPM leader, Mohammad Yousuf Taragami  said that on one hand the government is saying that no one is under detention now in Kashmir and as  even the claim was made from floor of the parliament but on the other hand the highly influential religious leader like Mirwaiz is not allowed to lead the prayers at historical Jamia Masjid even in the Holy month of Ramadan", adding that "the government is contesting its own claims as it goes on saying that no one is under detention here now,. Everything is normal, but the same government is not allowing Mirwaiz to move out" .  He further said  "I demand that democratic rights in Jammu kashmir should be fully restored without any excuse."
"The treatment of the administration towards the Mirwaiz saab is unacceptable", unjustified ", he added.
The PDF chairman Hakeem Yaseen while reacting to the continuous detention of Mirwaiz said" our constitution has given us right to express and operate peacefully. The administration should allow Mirwaz saab to lead the prayers at Jamia Masjid. This is holy month",he added.
Jammu and Kashmir Civil Society Forum (JKCSF) chairman Qayoom Wani said "Since begning I am saying that Mirwaiz saab is a religious scholar. In this auspicious month of Ramadan the detention of Mirwaiz  Umar Farooq is very unfortunate. The government should set free the Mirwazi at the earliest." He also said that  government should not interfere in religious obligations and reiterated his demand for  release of all political prisoners in the holy month of Ramadan
All Parties Hurriyat Conference also termed the continuous house arrest of Mirwaiz Umar Farooq extremely unfortunate.
"The Pulpit of Jama Masjid would otherwise in the holy month of Ramadan, attract thousands of faithfuls inspired by spiritually  tableeg , supplications and fervent prayers providing solace and nourishment to them, "said Hurriyat Conference (M) further said " such tactics only further alienation, while strengthening our belief in steadfastness and patience". kns