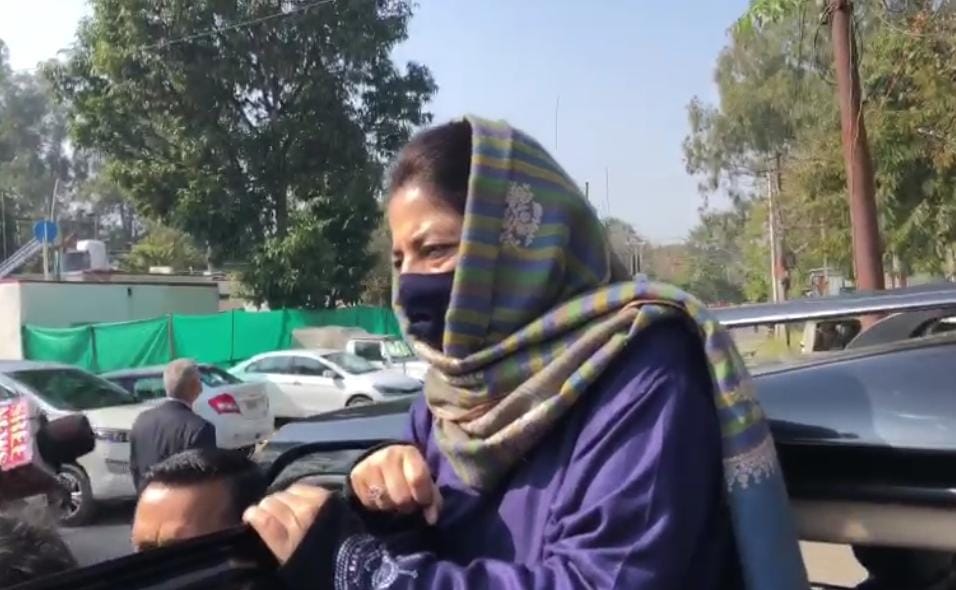 Srinagar, March 25: Peoples Democratic Party (PDP) President and former chief minister of Jammu and Kashmir, Mehbooba Mufti on Thursday termed her questioning by Enforcement Directorate (ED) in alleged money laundering case with "criminalizing of dissent by the government."
Talking to media persons outside the ED office after being questioned for nearly five hours, she accused the BJP government of working through ED, CBI or NIA.
"There were two issues, one was about selling of the property in our name in Bijbhera with question revolving round as to who purchased it, against what amount it was purchased as well as about funds meant for engagement of youths and others," she said, adding, "It needs not rocket science to understand that dissent has been criminalized in this country".
"This country is ruled by either by ED, CBI or NIA."
She further said that either there is case of sedition or under money laundering against people who try to speak up.
"The country at present is not being run under the Constitution of India but as per the agenda of a particular party wherein one cannot talk or is allowed to open mouth. These things will keep on going," she said.
Mehbooba said that she has "nothing to hide and have with clean hands."
"This perhaps is the reason that it took them two years for them to find out anything and now they question about the land for graveyard of my father and secret funds meant for widows and who were the beneficiaries," he said, adding, "I myself and my party, the PDP, will continue work on our agenda and will continue to seek resolution of the Kashmir issue."
Mehbooba, who was released last year after more than a year in detention following the scrapping of Jammu and Kashmir's special status, was served a notice to appear at the ED headquarters in New Delhi.
On March 19, the Delhi High Court had refused to stay summons issued to her after she moved the court seeking quashing of the summons in the case.
Earlier, 61-year-old appeared before the ED here in connection with a money laundering case and reached the ED office in Rajbagh at 11 a.m. in connection with the case.
Mehbooba did not appear before the ED in Delhi on Monday, citing she had prior commitments that could not be cancelled. Later, her request to ED officials that she be questioned in Srinagar instead of Delhi was accepted.
The ED, which had earlier summoned her on March 15, did not insist on her personal appearance at that time.
Mehbooba further stated that there will be no change in the party's stance over the fight for the rights of Jammu and Kashmir people especially regarding the restoration of Article 370 gns