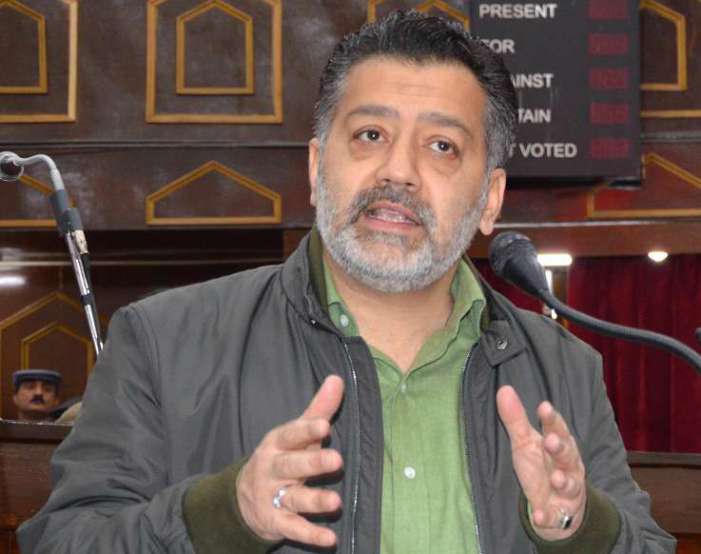 Srinagar, Jan 11:  People's Conference General Secretry and influential Shia leader Imran Raza Ansari today accused PAGD leadership of showing disrespect to alliance partners and fielding proxy candidates.
"The letter I sent to party president  Sajad Lone are valid points. That is the message of people and other leaders associated with Peoples Conference; I just wanted the message to reach to Sajad Lone. We joined hands with PAGD with noble intentions. PAGD leadership doesn't want to acknowledge any other person. Listen the speeches of National Conference leaders, they say they have given seats to as charity. We need to discuss and debate on the issue," he said..
On being asked whether there was any discussion in party regarding the issue earlier, he said, " Sajad Lone is very pure hearted person. When first list was issued, Farooq Abdullah was in Jammu, he said that he will talk about all the 8 seats which had become bone of contention,  and  after return he gave all the 8 seats to NC. I again' raised this issue with Sajad Lone and he told me we should ignore small isssues. Now so called small issues have become a big problem . Our own people's conference workers are not ready to ready to tolerate the bias anymore."
Regarding the seats bagged by PAGD, he said, " results were not good. PAGD fought on 200 seats, NC got lion's share, then PDP and we got 10 seats. Peoples Conference had bagged second largest vote share in Parlimentary elections recently. Did we deserve 10 seats? I don't say abrogation of Article 370 was good,  but NC says it was referendum. What kind of referendum. NC fought on 180 seats and got 67 seats. And Farooq Abdullah says that he had to drink cup of poison to give some seats to alliance partners. No one asks Farooq Abdullah that he fought on maximum seats and couldn't win half of it. In Sonawari area as PAGD president Farooq Abdullah alloted seats to us, and fielded proxy candidate against the same candidate with his own signature," he said.
He says PAGD projected votes for different issue while as people gave votes for development.
" It should be debated," he said.
He said for 70 years Delhi was looking at the Kahsmir through the prism of two families.
"Now Delhi should look at people who sided with democracy and came out to vote. Their vote should be respected and reciprocated."
On being asked that people say that they voted election manifesto of PAGD in this election, he said, " I agree but tell me one thing. At many places PAGD leaders also fielded proxy candidates and they won the elections on being against the alliance. What you call that vote. Some PAGD leaders announced official candidates and and also fielded proxy independent candidates, now they says independent candidate is also theirs, " he said.
He said People's Conference has to think about self-respect not about votes only.
"Ask the PAGD how they were asked to wait untill Farooq Abdullah, omar Abdullah or Mehbooba Mufti won't join them during meetings. Leave it also let it be for sacrifice. But we won't accept that we were given 10 seats as charity. They should have given us 8 seats and what else they could do"
He also accused PAGD leadership of staying away from campaigning for DDC candidates by quoting different excuses.
Reacting to the reports of some leaders meeting with Home Minister Amit Shah, he said, " I also heard same as someone had tweeted. I don't think there is an issue in meeting him by anyone, he is a home minister and directly deals with Kashmir. May be he would have projected some grievances."
Imran Ansari also said he expects DDC winners to try to solve grievances of the people in their respective areas.
"We are connected with people. We have got 55000 votes on ten seats," he said.
He also advocated dialogue with central government regarding resolution of all issues. (KNS)