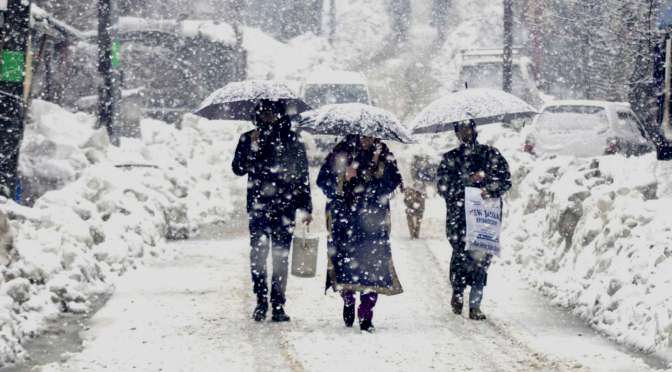 Srinagar, Jan 7: Roads across Kashmir Valley particularly in Srinagar city are still accumulated with snow while people are accusing administration of incompetence who face lot of inconvenience as almost all the link roads, lanes and by-lanes are filled with snow making movement of vehicles and pedestrians very difficult.
Roads and Buildings Department that is responsible for clearing snow from the main roads was in deep slumber till Wednesday. This department failed to clear main roads while Srinagar Municipal Corporation (SMC) workers failed to deliver goods using the very same old traditional and redundant machinery to clear lanes and by-lanes.
Even after five days, roads have not been cleared properly in Kashmir capital Srinagar. Main roads and link roads in many areas of Srinagar are still under snow causing problems in commute even for emergency purposes.
Roads leading to hospitals are still dangerous for driving. A Ward Officer said on condition of anonymity that SMC has hired private JCBs that are unfit for snow clearing job. "The blades of private JCBs don't remove the snow properly as their blades don't touch the ground and are 5 to 6 inches above the ground. SMC doesn't have proper machinery and is ill-equipped to handle any calamity," he said.
Another Ward Officer said that workers are not well equipped. They don't get proper gloves and spades. You won't believe, even those garbage lifting vehicles were used to clear the snow from the roads, but all in vain," he said.
"Due to insensitive approach and non-seriousness of the administration, people this time suffered heavily. No meeting was called beforehand to tackle the situation. No department was ready and had not anticipated such a situation," the Ward Officer said.
Across Valley, people are aghast and blaming administration. There is a common perception that administration is present only on social media and nowhere on the ground. "The officials' only tweet and post photographs of their 'hardwork'. They publish helpline numbers which yield no response," said a local Irshad Ahmed.
Locals say snowfall this time completely exposed SMC and R&B. SMC Mayor Juniad Mattu in a press conference here in Srinagar today said that Corporation's job is to clear the snow from interior lanes only while main road is the baby of R&B and Mechanical Division. He admitted that Corporation is ill equipped to clear the snow from the lanes of Srinagar city. The Mayor said that the Corporation had ordered snow clearing equipment, but had not been received yet and will ensure its delivery.
He said SMC has less than 15 JCBs/loaders. Srinagar has at least 10,000 lanes that need snow clearance. "Effective snow-clearance in lanes and by-lanes will remain improbable till SMC is equipped with adequate, modern snow-clearing machines," he said and claimed that new machinery and equipment will be procured shortly.
Chief Engineer R&B, Showkat Jeelani Pandit said that all the main roads are through. (KNT)