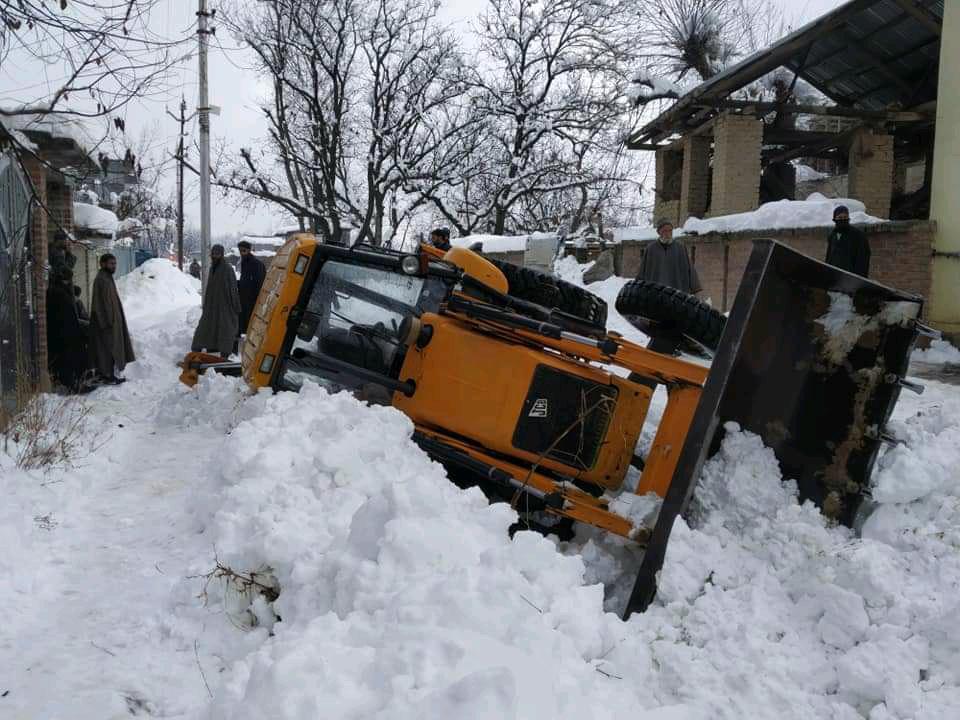 Srinagar, Jan 04: Normal life remained paralyzed on Monday after Kashmir received moderate snowfall while the weatherman here has predicted heavy to very heavy snowfall at scattered places across the Valley till January 06.
The moderate snowfall in most parts of the Valley also triggered slippery conditions of the roads, resulting in immense hardships to the commuters.
Srinagar, the summer capital of Jammu and Kashmir, world famous ski-resort, Gulmarg and other tourist destinations experienced fresh snowfall today, bringing the temperature further down.
Director Meteorological department (MeT), Sonum Lotus said that the prevailing weather conditions would continue till January 06 across J&K and Ladakh Union Territories. He added that as predicted, most parts of the Valley received moderate snowfall early Monday morning.
He said that there is a forecast of heavy to very heavy snowfall at scattered places till Wednesday, adding that the weather conditions would start improving from January 06 afternoon.
The MeT Director had already issued warning to the people living in higher reaches not to venture out during the snowfall to avoid any untoward incident and had also predicted that the fresh spell of snow would lead to the closure of Srinagar-Jammu highway.
MeT spokesman while divulging the details said that Srinagar recorded 13.4 cm snowfall till 08:00AM in the morning while Qazigund received snowfall of 51.7cms, adding that Pahalgam, Kupwara, Kokernag and Gulmarg received 21.0 cm, 3.5 cm, 32 cm and 3.8 cm snowfall respectively till 08 AM today. He said from morning 8:00AM till 5:00 PM, Qazigund and Gulmarg received 0.8 cm and 1.5cm snowfall respectively.
He added that Drass was coldest where temperature settled at minus 15.0 degree Celsius, adding that Srinagar, the summer capital of J&K recorded temperature of minus 0.9 degree Celsius last night.
Meanwhile, the melting of snow later inundated the roads, lanes and bi-lanes across Srinagar and other areas of the Valley, thus leaving the commuters as well as pedestrians to suffer at large. The slippery conditions of the roads triggered by the fresh snowfall added to the miseries commuters today, eyewitnesses said.
People especially in Old City areas had to face hardships today as the melting of snow inundated almost every lane and bi-lane in the residential areas, locals said.
Meanwhile, Mayor Srinagar Municipal Corporation Junaid Azim Mattu held a meeting to take stock of the post snowfall work mechanism from various line departments to assess the situation in the Srinagar city on various fronts.
During the meeting, Commissioner SMC Gazanfar Ali informed Mayor that atleast 3000 sanitation workers are on job since yesterday early morning to clear up the snow from lanes and bylanes in the city, besides snow clearance drive is being taken up in Hospitals, Religious places, Ration Depots, vital roads, Major Markets , city centre and other important stretches.
Besides utilisation of manpower, twenty JCBs, Roberts and on the snow clearance machines were put on job, a statement issued to KNO reads. While taking review of Drainage wing, it was informed that all the 85 permanent dewatering stations were fully functional and 32 mobile pumps were deputed in low lying / vulnerable spots in Srinagar City.
Besides, the fresh snowfall also affected the electricity in many areas across Kashmir, thus leaving forcing the people to face hardships.
Chief Engineer, Power Development Department (PDD), Aijaz Ahmad Dar said a total of 80 transformers got damaged due to the snowfall while many among them have been lifted from the spot. "We have adequate stock available and the damaged transformers will be replaced soon," he said.
He also said since this morning a total of 427 feeders remain affected due to snowfall while the men and machinery already pressed managed to repair 382 feeders, adding that 20-25 feeders will be restored till late evening. "In case the snowfall stops, all the remaining feeders will be repaired till tomorrow," he said, adding that the electricity across the Valley will be restored till tomorrow.
Dar also said that minor damages to electricity poles were also reported. He further said that a call centre has also been established recently by the Lieutenant Governor Manoj Sinha, which helped the department to get complaints from the ground. He appealed people to contact on 6006613506, 6006613507, 6006613508, 6006613509, 6006613510 numbers in case of any complaint